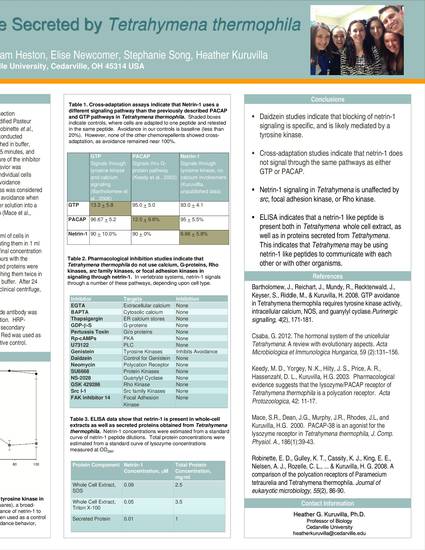 Presentation
Netrin-1-like Peptides Are Secreted by Tetrahymena thermophila
The Research and Scholarship Symposium
Type of Submission
Poster
Abstract
Netrin-1 is a peptide signaling molecule that has many roles in vertebrates. In the ciliated protozoan, Tetrahymena thermophila, netrin-1 acts as a chemorepellent, causing cells to exhibit a characteristic avoidance behavior. We have previously shown that netrin-1 avoidance by T. thermophila is inhibited by genistein, which is a broad spectrum tyrosine kinase inhibitor.
One question we wished to answer in our current study was, "Is genistein specifically acting upon tyrosine kinases in order to inhibit netrin avoidance in Tetrahymena?" In order to answer this question, we used the phytoestrogen, diadzein, as a negative control for genistein inhibition. Diadzein had no effect on avoidance, suggesting that genistein inhibition is specific. In order to gain more information about the nature of the kinases involved in netrin-1 signaling, we tested several other kinase inhibitors, including a src inhibitor, a focal adhesion kinase inhibitor, and a Rho kinase inhibitor. Each of these kinases has been implicated in netrin-1 signaling in some vertebrate cell types. However, none of these inhibitors affected Tetrahymena avoidance to netrin-1.
Finally, we wished to answer the question, "Is netrin-1 actually serving an autocrine signaling role in Tetrahymena, or is the peptide merely serving as an agonist for another receptor?" In order to answer this question, we prepared a whole cell extract of Tetrahymena using 0.1% SDS. We also washed Tetrahymena in our behavioral buffer and allowed them to sit in that buffer for 24 hours. The Tetrahymena were centrifuged out of the buffer, and the supernatant, containing the proteins which the Tetrahymena had secreted, was kept for ELISA assay. An ELISA, using a polyclonal anti netrin-1 antibody, was run on the whole cell extract and the secreted proteins against a netrin-1 standard curve. Both the secreted proteins and the whole cell extract tested positive for netrin-1 in the ELISA. Further experimentation will allow us to determine the nature of these netrin-like peptides.
Faculty Sponsor or Advisor's Name
Heather Kuruvilla
Campus Venue
Stevens Student Center
Start Date
4-16-2014 11:00 AM
End Date
4-16-2014 2:00 PM
Creative Commons License
Creative Commons Attribution-Noncommercial-No Derivative Works 4.0
Citation Information
Marian Bhajjan, Kortney Good, Graham Heston, Elise Newcomer, et al.. "Netrin-1-like Peptides Are Secreted by Tetrahymena thermophila" (2014)
Available at: http://works.bepress.com/heather_kuruvilla/53/