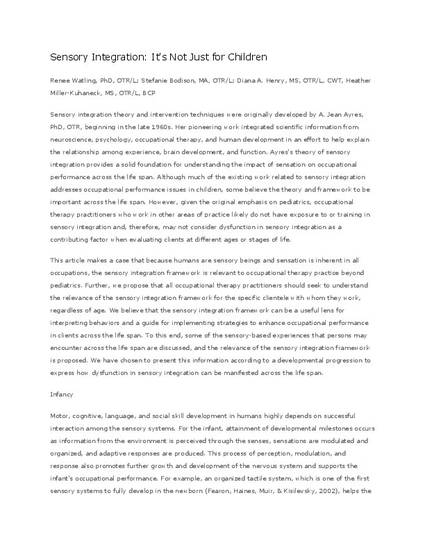 Article
Sensory Integration: It's Not Just for Children
American Occupational Therapy Association's Sensory Integration Special Interest Section Quarterly
Document Type
Peer-Reviewed Article
Publication Date
12-1-2006
Abstract
Sensory integration theory and intervention techniques were originally developed by A. Jean Ayres, PhD, OTR, beginning in the late 1960s. Her pioneering work integrated scientific information from neuroscience, psychology, occupational therapy, and human development in an effort to help explain the relationship among experience, brain development, and function. Ayres's theory of sensory integration provides a solid foundation for understanding the impact of sensation on occupational performance across the life span. Although much of the existing work related to sensory integration addresses occupational performance issues in children, some believe the theory and framework to be important across the life span. However, given the original emphasis on pediatrics, occupational therapy practitioners who work in other areas of practice likely do not have exposure to or training in sensory integration and, therefore, may not consider dysfunction in sensory integration as a contributing factor when evaluating clients at different ages or stages of life.
This article makes a case that because humans are sensory beings and sensation is inherent in all occupations, the sensory integration framework is relevant to occupational therapy practice beyond pediatrics. Further, we propose that all occupational therapy practitioners should seek to understand the relevance of the sensory integration framework for the specific clientele with whom they work, regardless of age. We believe that the sensory integration framework can be a useful lens for interpreting behaviors and a guide for implementing strategies to enhance occupational performance in clients across the life span. To this end, some of the sensory-based experiences that persons may encounter across the life span are discussed, and the relevance of the sensory integration framework is proposed. We have chosen to present this information according to a developmental progression to express how dysfunction in sensory integration can be manifested across the life span.
Citation Information
Renee Watling, Stefanie Bodison, Diana A. Henry and Heather Miller-Kuhaneck. "Sensory Integration: It's Not Just for Children"
American Occupational Therapy Association's Sensory Integration Special Interest Section Quarterly
Vol. 29 Iss. 4 (2006)
Available at: http://works.bepress.com/heather_kuhaneck/10/