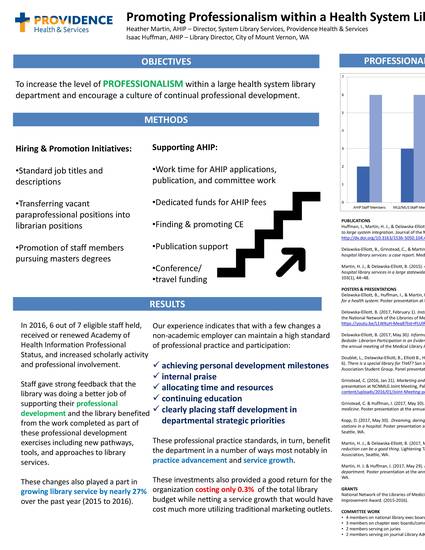 Presentation
Professionalism within a health system library department
Medical Library Association Annual Meeting (2017)
Abstract
Objectives: 
To increase the level of professionalism within a large health system library department and encourage a culture of continual professional development.
Methods: 
Hospital library staff often lack the traditional avenues to support professional growth. Providence library leadership aimed to increase professionalism within the department through hiring, promotion, and support of Academy of Health Information Professionals (AHIP) credentialing. Hiring and promotion initiatives included standardizing job descriptions across the health system, transferring vacant library paraprofessional positions into librarian positions, and promotion of staff members who had or were pursuing masters degrees. Support of becoming or moving up levels of AHIP membership included providing at work time for applications, publication support, finding and prompting continuing education as well as providing dedicated funds for application fees. The program was appraised via employee feedback, publication, and credential tracking. 
Results: 
In 2016, 6 out of 7 eligible staff held, received or renewed Academy of Health Information Professional Status. Library staff published 1 scholarly paper, and presented 1 paper, and 3 posters at national and regional conferences. In 2017 Library staff were accepted to present 4 posters, 1 paper, and 1 lightening talk at the 2017 MLA Annual Meeting and 2 Staff members are serving in leadership roles in regional MLA chapters.
Staff gave strong feedback that the library was doing a better job of supporting their professional development and the library benefited from the work completed as part of these professional development exercises including new pathways, tools, and approaches to library services. These changes also played a part in growing library service by nearly 27% over the past year (2015 to 2016).
Conclusion: 
Working for a non-academic or small education institution there are often few organizational structures that support the development of staff. Therefore, internal department structures, peer support, and leading by example become important motivators in developing a professional staff. Our experience indicates that with a few changes including achieving personal development milestones, internal praise, allocating time and resources continuing education, and clearly placing staff development in departmental strategic priorities that a non-academic employer can maintain a high standard of professional practice and participation. 
These professional practice standards, in turn, benefit the department in a number of ways most notably in practice advancement and service growth. These investments also provided a good return for the organization costing only 0.3% of the total library budget while netting a service growth that would have cost much more utilizing traditional marketing outlets.
Keywords
hospital libraries,
medical libraries
Publication Date
May 29, 2017
Citation Information
Heather J Martin and Isaac Huffman. "Professionalism within a health system library department"
Medical Library Association Annual Meeting
(2017)
Available at: http://works.bepress.com/heather-j-martin/4/