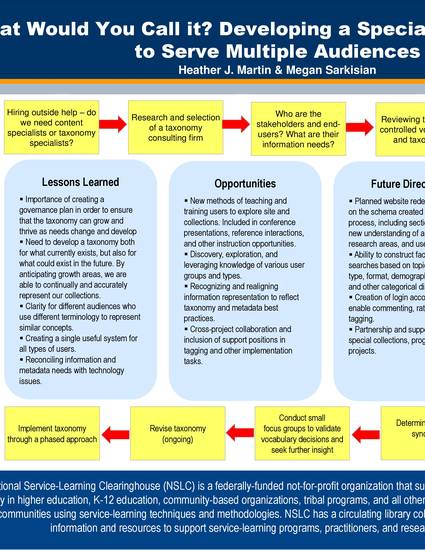 Presentation
What would you call it? Developing a specialized taxonomy to serve multiple audiences
California Library Association Annual Conference (2010)
Abstract
The National Service-Learning Clearinghouse had a web and library taxonomy that was based loosely on the ERIC Thesaurus, developed organically, and somewhat haphazardly, over time.  We recognized multiple short-comings in both the taxonomy itself and the often inconsistent way in which it was applied to the collection as well as our website. After a needs assessment we decided to develop a new taxonomy as part of a larger content management project in order to provide greater ease of use and access to both internal and external users.
Publication Date
November 13, 2010
Citation Information
Martin, H.J., & Sarkisian, M. (2010). "What would you call it? Developing a specialized taxonomy to serve multiple audiences." Poster presentation CLA Annual Conference, Sacramento, CA, November 13, 2010.