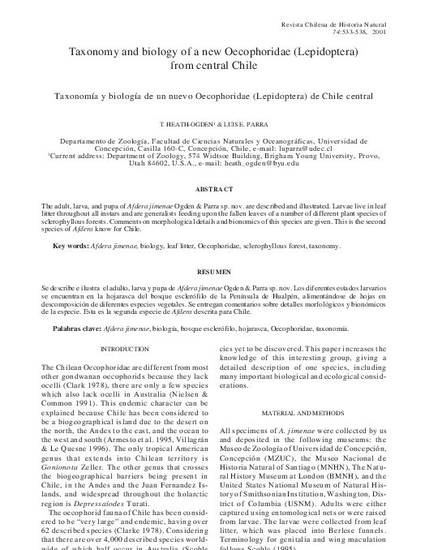 Article
Taxonomy and biology of a new Oecophoridae (Lepidoptera) from central Chile
Revista Chilena de Historia Natural (2001)
Abstract
The adult, larva, and pupa of Afdera jimenae Ogden & Parra sp. nov. are described and illustrated. Larvae live in leaf litter throughout all instars and are generalists feeding upon the fallen leaves of a number of different plant species of sclerophyllous forests. Comments on morphological details and bionomics of this species are given. This is the second species of Afdera know for Chile.
Keywords
Afdera jimenae,
biology,
leaf litter,
Oecophoridae,
sclerophyllous forest,
taxonomy
Citation Information
T. Heath Ogden. "Taxonomy and biology of a new Oecophoridae (Lepidoptera) from central Chile"
Revista Chilena de Historia Natural
Vol. 74 (2001)
Available at: http://works.bepress.com/heath_ogden/2/