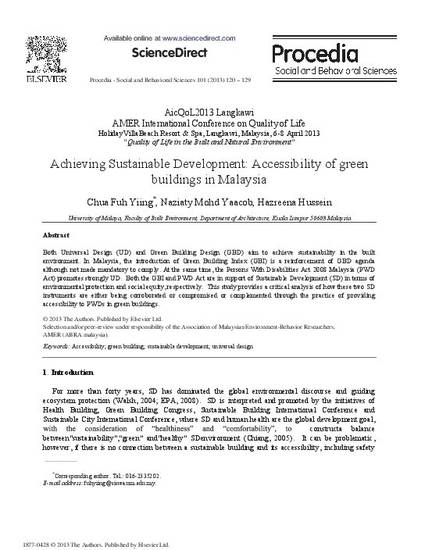 Article
Achieving Sustainable Development: Accessibility of Green Buildings in Malaysia
Procedia Social Behavioural Sciences (2013)
Abstract
Both Universal Design (UD) and Green Building Design (GBD) aim to achieve sustainability in the built environment. In Malaysia, the introduction of Green Building Index (GBI) is a reinforcement of GBD agenda although not made mandatory to comply. At the same time, the Persons With Disabilities Act 2008 Malaysia (PWD Act) promotes strongly UD. Both the GBI and PWD Act are in support of Sustainable Development (SD) in terms of environmental protection and social equity, respectively. This study provides a critical analysis of how these two SD instruments are either being corroborated or compromised or complemented through the practice of providing accessibility to PWDs in green buildings.
Keywords
accessibility,
green building,
sustainable development,
universal design
Citation Information
Chua Fuh Yiing, Naziaty Mohd Yaacob and Hazreena Hussein. "Achieving Sustainable Development: Accessibility of Green Buildings in Malaysia"
Procedia Social Behavioural Sciences
Vol. 101 (2013)
Available at: http://works.bepress.com/hazreena/14/