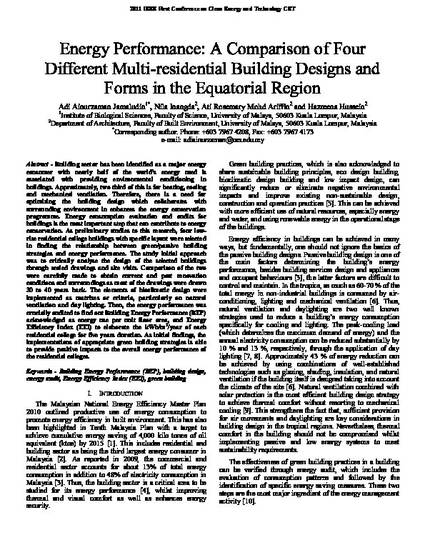 Article
Energy performance: A comparison of four different multi- residential building designs and forms in the equatorial region
International Journal of Renewable Energy Resources (2012)
Abstract
Building sector has been identified as a major energy consumer with nearly half of the world's energy used is associated with providing environmental conditioning in buildings. Approximately, two third of this is for heating, cooling and mechanical ventilation. Therefore, there is a need for optimizing the building design which collaborates with surrounding environment in enhances the energy conservation programme. Energy consumption evaluation and audits for buildings is the most important step that can contribute to energy conservation. As preliminary studies to this research, four low rise residential college buildings with specific layout were selected in finding the relationship between green/passive building strategies and energy performance. The study initial approach was to critically analyse the design of the selected buildings through scaled drawings and site visits. Comparison of the two were carefully made to obtain current and post renovation conditions and surroundings as most of the drawings were drawn 30 to 40 years back. The elements of bioclimatic design were implemented as matrixes or criteria, particularly on natural ventilation and day lighting. Then, the energy performance was crucially audited to find out Building Energy Performance (BEP) acknowledged as energy use per unit floor area, and Energy Efficiency Index (EEl) to elaborate the kWhlm2/year of each residential college for five years duration. As initial findings, the implementations of appropriate green building strategies is able to provide positive impacts to the overall energy performance of the residential colleges.
Keywords
Building Energy Performance (BEP),
building design,
energy audit,
Energy Efficiency Index (EEl),
green building
Citation Information
Adi Ainurzaman Jamaludin, Nila Keumala Daud, Ati Rosemary Mohd Ariffin and Hazreena Hussein. "Energy performance: A comparison of four different multi- residential building designs and forms in the equatorial region"
International Journal of Renewable Energy Resources
Vol. 2 Iss. 1 (2012)
Available at: http://works.bepress.com/hazreena/11/