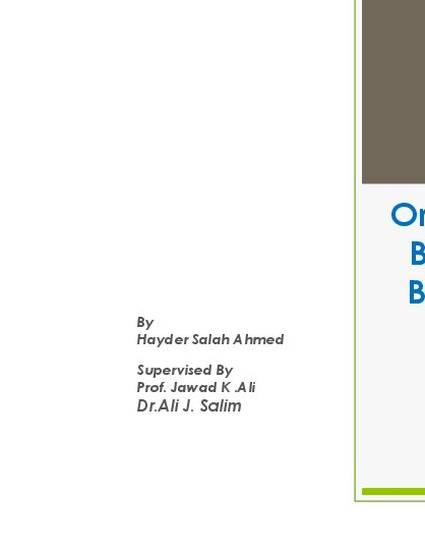 Presentation
Presentation: Fractal Based Muti-Band Reject Filter
Electric Engineering Department, University of Technology (2016)
Abstract
Bandstop filters (BSFs) are applied to isolate frequency bands containing unwanted signals, like interferences and higher harmonics, to reduce noise and intermodulation distortion.In this thesis, two compact BSFs have been designed based on applying fractal on conventional open loop square resonators coupled to a transmission line. The first filter was a triple-band bandstop filter. To demonstrate the design of this filter, six filters have been presented to extract the proposed filter finally. All the presented filters are designed using RT/Duroid as a substrate with dielectric constant 10.8 and thickness 1.27 mm. The proposed filter can be tunable; this filter has been designed to cover the rejection of operating frequencies such as 2.4 GHz for ISM, 3.5 GHz for WiMax and 5 GHz for WLAN. 
The second filter presents a miniaturized single-band BSF operating at a center frequency 2.4 GHz. To improve the response of the filter, an open shunt stub technique is added to the structure. To confirm the validity of the proposed design, this filter has been fabricated with FR-4 as a substrate with dielectric constant 3.5 and thickness 1.5 mm.  Results imply reasonable agreement between simulation and measurement.
Furthermore, the later BSF, operating at 2.4 GHz, has been modified and applied to reduce the radiation leakage from the domestic microwave oven. The modification of this filter includes the shift of the center frequency to be at 2.45 GHz. To cover all frames of oven two pairs of 1-D array of BSFs have been designed and fitted beneath the door of the microwave oven. A considerable leakage reduction has been measured by using the proposed BSF as compared with similar work reported in the literature.
Modeling and simulation of these filters have been performed using Sonnet electromagnetic simulation package, the microwave Studio suite from CST electromagnetic simulation package and Microwave Office electromagnetic simulation package. 
Keywords
Band reject filter,
Multi-Band filter,
Fractal geometry,
Microstrip filter,
Radiation Reduction,
Microwave Oven Leakage
Publication Date
Spring April 5, 2016
Citation Information
Hayder S. Ahmed. "Presentation: Fractal Based Muti-Band Reject Filter"
Electric Engineering Department, University of Technology
(2016)
Available at: http://works.bepress.com/hayder-sahmed/7/