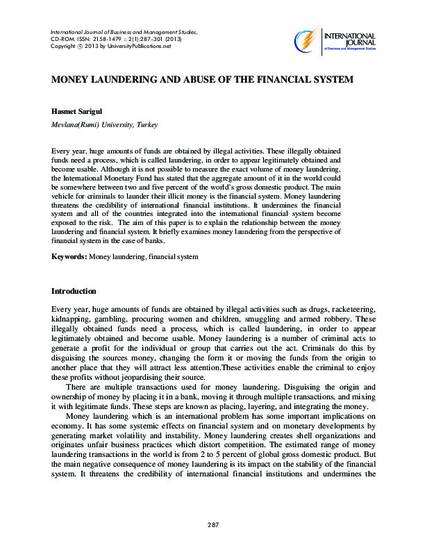 Article
MONEY LAUNDERING AND ABUSE OF THE FINANCIAL SYSTEM
International Journal of Business and Management Studies (2013)
Abstract
Every year, huge amounts of funds are obtained by illegal activities. These illegally obtained funds need a process, which is called laundering, in order to appear legitimately obtained and become usable. Although it is not possible to measure the exact volume of money laundering, the International Monetary Fund has stated that the aggregate amount of it in the world could be somewhere between two and five percent of the world's gross domestic product. The main vehicle for criminals to launder their illicit money is the financial system. Money laundering threatens the credibility of international financial institutions. It undermines the financial system and all of the countries integrated into the international financial system become exposed to the risk. The aim of this paper is to explain the relationship between the money laundering and financial system. It briefly examines money laundering from the perspective of financial system in the case of banks.
Keywords
Money laundering,
financial system
Publication Date
Spring 2013
Citation Information
Hasmet Sarigul. "MONEY LAUNDERING AND ABUSE OF THE FINANCIAL SYSTEM"
International Journal of Business and Management Studies
Vol. 2 Iss. 1 (2013)
Available at: http://works.bepress.com/hasmet_sarigul/8/