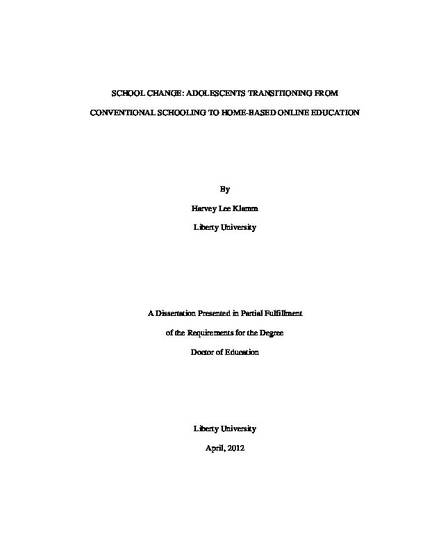 Other
School Change: Adolescents Transitioning from Conventional Schooling to Home-Based Online Education
Doctoral Dissertations and Projects
Department
School of Education
Degree
Doctor of Education (EdD)
Keywords
Conventional School,
Home-based education,
Home School,
Online education,
Online school,
School Change
Abstract
This hermeneutic phenomenological research explored the lived experiences of six recently graduated adolescents to extrapolate the valued essence of their transitional encounters in changing from conventional school to home-based online schooling. The homeschool research shifted the emphasis from the outcome-based academic achievement studies prevalent during the past 20 years to a focus on internal and external factors impacting student learning within this technological instructional process. Findings produced from analysis and interpretation of reflective adolescent lived experiences revealed rich truth regarding the internal emotions, environmental adaptations, academic ramifications, and social adaptations encountered when changing from conventional schooling to home-based online school. Cognitive, maturational, and social skills showed reported gains in the move from conventional school to home-based online school. Gender differences were not reported as major contributing adjustment factors. The greatest transitional ramifications were noted by participants who made a geographic move while simultaneously enrolling in home-based online school. The magnitude of the loss in social capital was accentuated by the geographic move. Adolescent attitude in acceptance of the move was a defining element, leading to successful re-establishment of new social capital or resulting in social and psychological withdrawal.
Citation Information
Harvey Klamm. "School Change: Adolescents Transitioning from Conventional Schooling to Home-Based Online Education"
Available at: http://works.bepress.com/harvey_klamm/1/