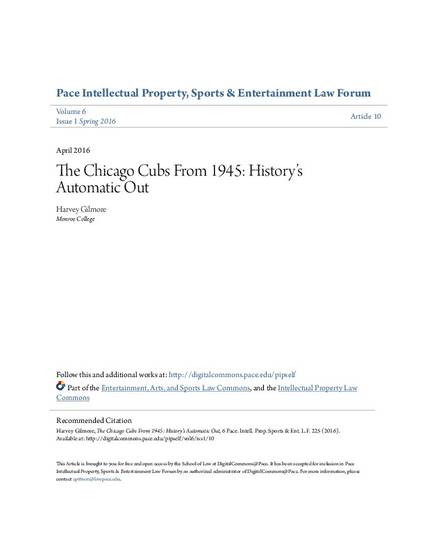 Article
The Chicago Cubs From 1945 - History's Automatic Out
Pace Intellectual Property, Sports & Entertainment Law Forum (2016)
Abstract
Since 1945, many teams have made it to the World Series and have won. The New York Yankees, Philadelphia/Oakland Athletics, and St. Louis Cardinals have won many. The Boston Red Sox, Chicago White Sox, and San Francisco Giants endured decades-long dry spells before they finally won the World Series. Even expansion teams like the New York Mets, Toronto Blue Jays, Kansas City Royals, and Florida Marlins have won multiple championships. Other expansion teams like the San Diego Padres and Texas Rangers have been to the Fall Classic multiple times, although they did not win. Then we have the Chicago Cubs. The Cubs have not been to a World Series since 1945, and have not won one since 1908. In the seventy years since their last World Series appearance, the Cubs have flirted with a return to the Fall Classic several times. Unfortunately, each time they would suffer some amazing calamity that would stunningly snatch defeat from the grip of victory. This is their story.
Keywords
Chicago Cubs,
World Series,
National League Championship,
Futility
Publication Date
Spring June 30, 2016
Citation Information
"The Chicago Cubs From 1945 - History's Automatic Out"
Pace Intellectual Property, Sports & Entertainment Law Forum
Vol. 6 Iss. 1 (2016) p. 225 - 257
Available at: http://works.bepress.com/harvey_gilmore/25/