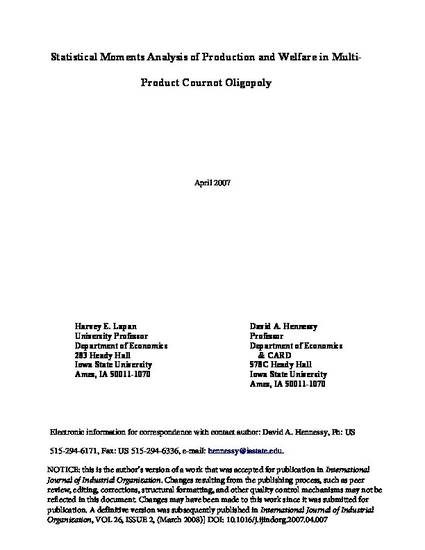 Article
Statistical moments analysis of production and welfare in multi-product Cournot oligopoly
International Journal of Industrial Organization
Publication Version
Submitted Manuscript
Publication Date
3-1-2008
DOI
10.1016/j.ijindorg.2007.04.007
Abstract
Our context involves N Cournot oligopolists producing M products at constant marginal costs when preferences are quasilinear. We identify relationships between second moments of unit costs and second moments of firm-level production. For example, a larger variance in unit costs of a product increases own output variance and the variance of any other output. We also investigate how second moments of unit costs affect industry cost efficiency. Industry costs can rise if the wrong firm secures a cost reduction. For quadratic preferences, it is shown that Zhao's (Zhao, J., 2001. A characterization for the negative welfare effects of cost reduction in Cournot oligopoly. International Journal of Industrial Organization 19, 455–469 (3–4, March)) share criteria for an increase in unit costs to increase welfare extend to the multi-product setting.
Rights
This manuscript version is made available under the CC-BY-NC-ND 4.0 license http://creativecommons.org/licenses/by-nc-nd/4.0/
Copyright Owner
Elsevier B. V.
File Format
application/pdf
Citation Information
Harvey E. Lapan and David A. Hennessy. "Statistical moments analysis of production and welfare in multi-product Cournot oligopoly"
International Journal of Industrial Organization
Vol. 26 Iss. 2 (2008) p. 598 - 606
Available at: http://works.bepress.com/harvey-lapan/52/