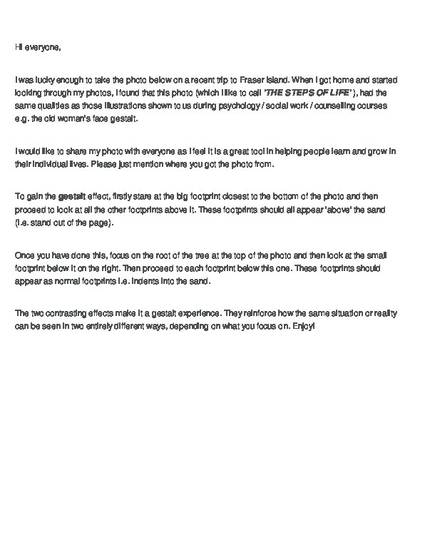 Other
Using a photographic gestalt in your therapy / counselling work
(2014)
Abstract
Hi everyone,
I was lucky enough to take the photo below on a recent trip to Fraser Island. When I got home and started looking through my photos, I found that this photo (which I like to call 'THE STEPS OF LIFE' ), had the same qualities as those illustrations shown to us during psychology / social work / counselling courses e.g. the old woman's face gestalt.
I would like to share my photo with everyone as I feel it is a great tool in helping people learn and grow in their individual lives. Please just mention where you got the photo from.
To gain the gestalt effect, firstly stare at the big footprint closest to the bottom of the photo and then proceed to look at all the other footprints above it. These footprints should all appear 'above' the sand (i.e. stand out of the page).
Once you have done this, focus on the root of the tree at the top of the photo and then look at the small footprint below it on the right. Then proceed to each footprint below this one. These footprints should appear as normal footprints i.e. indents into the sand.
The two contrasting effects make it a gestalt experience. They reinforce how the same situation or reality can be seen in two entirely different ways, depending on what you focus on. Enjoy!
'THE STEPS OF LIFE' ( Harry Mayr, Sept 2014 )
Keywords
gestalt photo,
therapy tool,
steps of life,
mayr
Publication Date
September 17, 2014
Citation Information
harry b mayr. "Using a photographic gestalt in your therapy / counselling work" (2014)
Available at: http://works.bepress.com/harry_mayr/3/