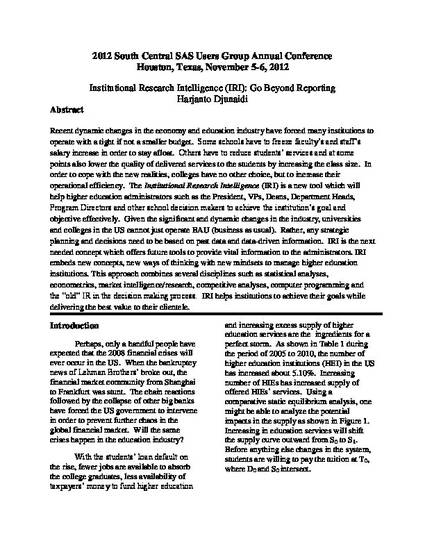 Presentation
Institutional Research Intelligence (IRI): Go Beyond Reporting
2012 South Central SAS Users Group Annual Conference (2012)
Abstract
Recent dynamic changes in the economy and education industry have forced many institutions to operate with a tight if not a smaller budget. Some schools have to freeze faculty's and staff's salary increase in order to stay afloat. Others have to reduce students' services and at some points also lower the quality of delivered services to the students by increasing the class size. In order to cope with the new realities, colleges have no other choice, but to increase their operational efficiency. The Institutional Research Intelligent (IRI) is a new tool which will help higher education administrators such as the President, VPs, Deans, Department Heads, Program Directors and other school decision makers to achieve the institution's goal and objective effectively. Given the significant and dynamic changes in the industry, universities and colleges in the US cannot just operate BAU (business as usual). Rather, any strategic planning and decisions need to be based on past data and data-driven information. IRI is the next needed concept which offers future tools to provide vital information to the administrators. IRI embeds new concepts, new ways of thinking with new mindsets to manage higher education institutions. This approach combines several disciplines such as statistical analyses, econometrics, market intelligent/research, competitive analyses, computer programming and the "old" IR in the decision making process. IRI helps institutions to achieve their goals while delivering the best value to their clientele.
Keywords
Institutional Research Intelligence,
IRI,
SAS,
2011 SCSUG
Publication Date
Fall November 5, 2012
Citation Information
Harry Djunaidi. "Institutional Research Intelligence (IRI): Go Beyond Reporting"
2012 South Central SAS Users Group Annual Conference
(2012)
Available at: http://works.bepress.com/harry_djunaidi/2/