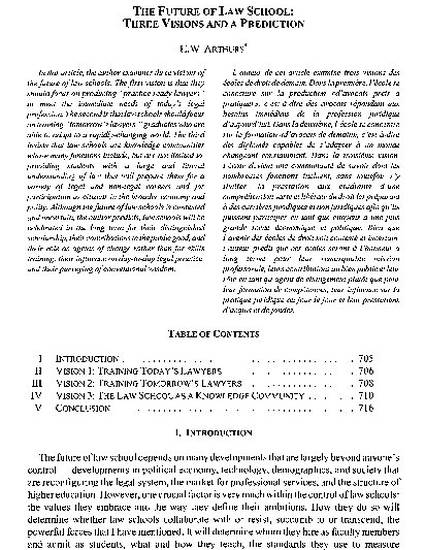 Article
The Future of Legal Education: Three Visions and a Prediction
Alberta Law Review. Volume 51 (2014), p. 705-716.
Publication Date
1-1-2014
Abstract
In this article, the author examines three visions of the future of law schools. The first vision is that they should focus on producing "practice ready lawyers" to meet the immediate needs of today's legal profession. The second is that law schools should focus on training "tomorrow's lawyers, "graduates who are able to adapt to a rapidly-changing world. The third insists that law schools are knowledge communities whose many functions include, but are not limited to, providing students with a large and liberal understanding of law that will prepare them for a variety of legal and non-legal careers and for participation as citizens in the broader economy and polity. Although the future of law schools is contested and uncertain, the author predicts, law schools will be celebrated in the long term for their distinguished scholarship, their contributions to the public good, and their role as agents of change rather than for skills training, their influence on day-to-day legal practice, and their purveying of conventional wisdom.
Creative Commons License
Creative Commons Attribution-Noncommercial-No Derivative Works 4.0
Citation Information
Arthurs, Harry W. "The Future of Legal Education: Three Visions and a Prediction." Alberta Law Review 51 (2014): 705-716.