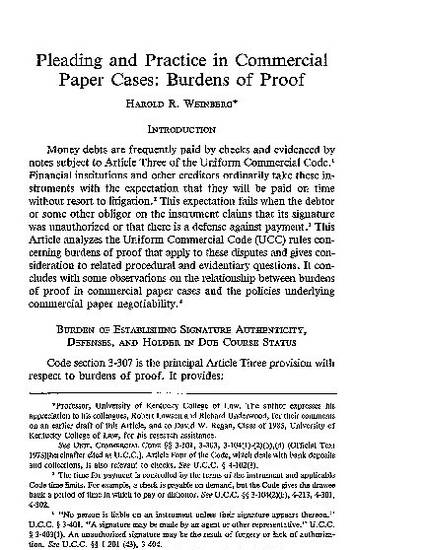 Article
Pleading and Practice in Commercial Paper Cases: Burdens of Proof
Law Faculty Scholarly Articles
Abstract
Money debts are frequently paid by checks and evidenced by notes subject to Article Three of the Uniform Commercial Code. Financial institutions and other creditors ordinarily take these instruments with the expectation that they will be paid on time without resort to litigation. This expectation fails when the debtor or some other obligor on the instrument claims that its signature was unauthorized or that there is a defense against payment. This Article analyzes the Uniform Commercial Code rules concerning burdens of proof that apply to these disputes and gives consideration to related procedural and evidentiary questions. It concludes with some observations on the relationship between burdens of proof in commercial paper cases and the policies underlying commercial paper negotiability.
Publication Date
1-1-1984
Citation Information
Harold R. Weinberg,
Pleading and Practice in Commercial Paper Cases: Burdens of Proof
, 72 Ky. L.J. 575 (1984).