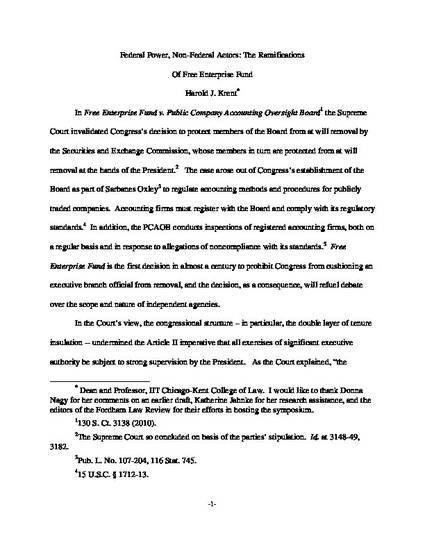 Article
Federal Power, Non-Federal Actors: The Ramifications of Free Enterprise Fund
Fordham Law Review (2011)
Abstract
In Free Enterprise Fund v. Public Company Accounting Oversight Board the Supreme Court invalidated Congress's decision to protect members of the Board from at will removal by the Securities and Exchange Commission, whose members in turn are protected from at will removal at the hands of the President. In the Court's view, the congressional structure – in particular, the double layer of tenure insulation -- undermined the Article II imperative that all exercises of significant executive authority be subject to strong supervision by the President. The Court's insistence in Free Enterprise Fund on formal presidential control over an inferior executive branch entity should cast grave doubt on the constitutionality of comparable congressional delegations outside the executive branch. Should Congress delegate to a private or state entity, no removal is likely possible, let alone the removal for cause found insufficient in Free Exercise Fund. Had Congress delegated the same financial oversight duties scrutinized in Free Exercise Fund to a commission comprised of the heads of Deloitte, PricewaterhouseCoopers, KPMG, and Ernst & Young, the President's removal authority would be further eroded, as would be the case if Congress had delegated that authority to a commission of state secretaries of the treasury. The recent Supreme Court decision therefore may toll congressional experimentation to vest executive authority in private and state hands.
I first argue that Free Enterprise Fund should cabin congressional delegations of significant authority to private parties, whether to self-regulatory organizations or private experts. Such delegations deprive the President of the ability to superintend implementation of the law. I conclude, however, that a similar delegation to a state entity should survive the Free Enterprise Fund analysis. Although the same concern for executive branch control exists, our structure of federalism presupposes that the federal government can share power with the states. The fear of congressional aggrandizement is much reduced when Congress delegates to state as opposed to private entities. Accordingly, the essay concludes that Free Enterprise Fund should bar delegations of significant authority to private individuals and groups but leave untouched most congressional efforts to share power with state governmental entities.
Citation Information
Federal Power, Non-Federal Actors: The Ramifications of Free Enterprise Fund, 79
Fordham Law Review
2425 (2011) (symposium).