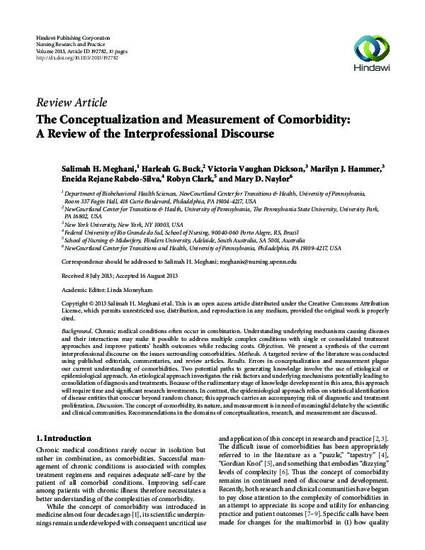 Article
The Conceptualization and Measurement of Comorbidity: A Review of the Interprofessional Discourse
Nursing Research and Practice
Publication Date
1-1-2013
Keywords
conceptualization,
comobidity
Digital Object Identifier (DOI)
https://doi.org/10.1155/2013/192782
Abstract
Background. Chronic medical conditions often occur in combination. Understanding underlying mechanisms causing diseases and their interactions may make it possible to address multiple complex conditions with single or consolidated treatment approaches and improve patients' health outcomes while reducing costs.
Objectives. We present a synthesis of the current interprofessional discourse on the issues surrounding comorbidities.
Methods. A targeted review of the literature was conducted using published editorials, commentaries, and review articles.
Results. Errors in conceptualization and measurement plague our current understanding of comorbidities. Two potential paths to generating knowledge involve the use of etiological or epidemiological approach. An etiological approach investigates the risk factors and underlying mechanisms potentially leading to consolidation of diagnosis and treatments. Because of the rudimentary stage of knowledge development in this area, this approach will require time and significant research investments. In contrast, the epidemiological approach relies on statistical identification of disease entities that cooccur beyond random chance; this approach carries an accompanying risk of diagnostic and treatment proliferation.
Discussion. The concept of comorbidity, its nature, and measurement is in need of meaningful debate by the scientific and clinical communities. Recommendations in the domains of conceptualization, research, and measurement are discussed.
Rights Information
Creative Commons Attribution 3.0
Citation / Publisher Attribution
Nursing Research and Practice, v. 2013, art.192782, p. 1-10
Citation Information
Salimah H. Meghani, Harleah G. Buck, Victoria Vaughan Dickson, Marilyn J. Hammer, et al.. "The Conceptualization and Measurement of Comorbidity: A Review of the Interprofessional Discourse"
Nursing Research and Practice
Vol. 2013 (2013) p. 1 - 10
Available at: http://works.bepress.com/harleah-buck/28/