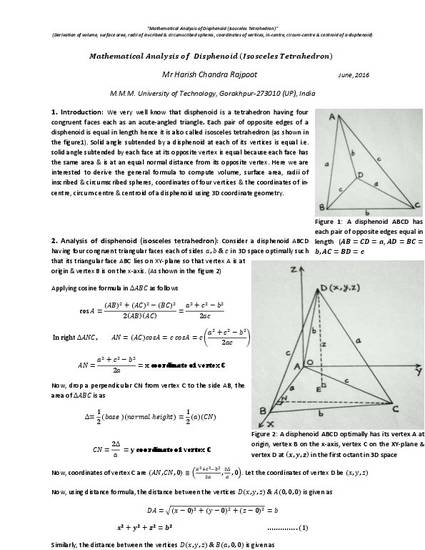 Presentation
Mathematical analysis of disphenoid (isosceles tetrahedron) (Derivation of volume, surface area, vertical height, in-radius, circum-radius, coordinates of vertices, in-center, circum-center & centroid)
Madan Mohan Malaviya University of Technolgy, Gorakhpur-273010 UP India (2017)
Abstract
The author Mr H.C Rajpoot has derived the formula to analytically compute all the important parameters of a disphenoid (isosceles tetrahedron with four congruent acute-triangular faces) such as volume, surface area, vertical height, radii of inscribed & circumscribed spheres,  solid angle subtended at each vertex, coordinates of vertices, in-centre, circum-centre & centroid of a disphenoid for the optimal configuration in 3D space. The author has also proved the important conclusions related to a disphenoid by mathematical derivations using 3D coordinate geometry.
Keywords
mathematical derivation of volume,
analysis of disphenoid by HCR,
in-radius and circum-radius of disphenoid,
3D coordinate geometry by H C Rajpoot
Publication Date
Spring May 6, 2017
Citation Information
Harish Chandra Rajpoot. "Mathematical analysis of disphenoid (isosceles tetrahedron) (Derivation of volume, surface area, vertical height, in-radius, circum-radius, coordinates of vertices, in-center, circum-center & centroid)"
Madan Mohan Malaviya University of Technolgy, Gorakhpur-273010 UP India
(2017)
Available at: http://works.bepress.com/harishchandrarajpoot_hcrajpoot/58/