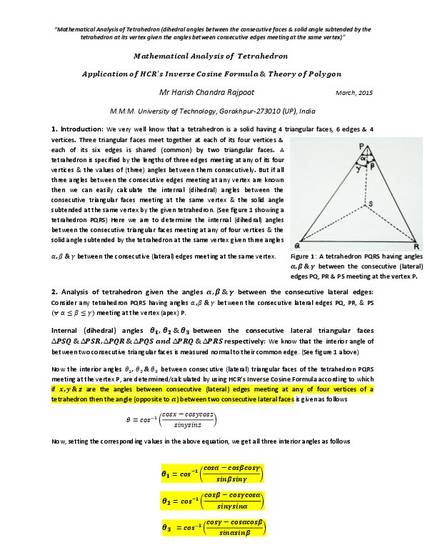 Contribution to Book
Mathematical Analysis of Tetrahedron (solid angle subtended by any tetrahedron at its vertex)
Applications of HCR's Theory of Polygon (2015)
Abstract
All the articles have been derived by the author Mr H.C. Rajpoot by using HCR's Inverse cosine formula & HCR's Theory of Polygon. These formula are very practical & simple to apply in case of any tetrahedron to calculate the internal (dihedral) angles between the consecutive lateral faces meeting at any of four vertices & the solid angle subtended by it (tetrahedron) at the vertex when the angles between the consecutive edges meeting at the same vertex are known. These are the generalized formula which can also be applied in case of three faces meeting at the vertex of various regular & uniform polyhedrons to calculate the solid angle subtended by polyhedron at its vertex.
Keywords
solid angle subtended by a tetrahedron at a vertex
Publication Date
Winter March 29, 2015
Citation Information
Harish Chandra Rajpoot Rajpoot. "Mathematical Analysis of Tetrahedron (solid angle subtended by any tetrahedron at its vertex)"
Applications of HCR's Theory of Polygon
(2015)
Available at: http://works.bepress.com/harishchandrarajpoot_hcrajpoot/40/