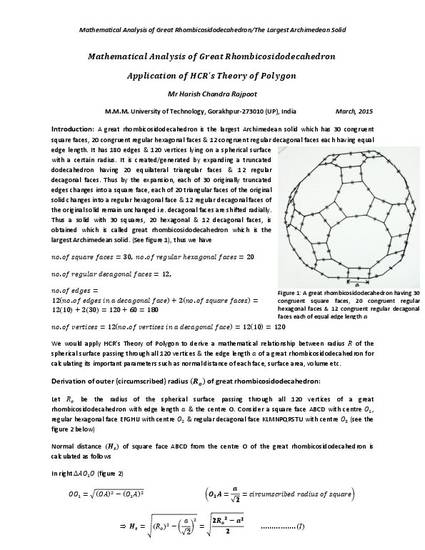 Contribution to Book
Mathematical Analysis of Great Rhombicosidodecahedron (the largest Archimedean solid) by H.C. Rajpoot
Applications of HCR's Theory of Polygon (2015)
Abstract
All the important parameters of a great rhombicosidodecahedron (the largest Archimedean solid), having 30 congruent square faces, 20 regular hexagonal faces, 12 congruent regular decagonal faces each of equal edge length, 180 edges & 120 vertices lying on a spherical surface with certain radius, have been derived by the author Mr H.C. Rajpoot by applying "HCR's Theory of Polygon" to calculate the solid angle subtended by each square face, regular hexagonal face & regular decagonal face & their normal distances from the center of great rhombicosidodecahedron, dihedral angles between the adjacent faces, inscribed radius, circumscribed radius, mean radius, surface area & volume. These formula are very useful in analysis, designing & modeling of various uniform polyhedrons.
Publication Date
Winter March 20, 2015
Citation Information
Harish Chandra Rajpoot Rajpoot. "Mathematical Analysis of Great Rhombicosidodecahedron (the largest Archimedean solid) by H.C. Rajpoot"
Applications of HCR's Theory of Polygon
(2015)
Available at: http://works.bepress.com/harishchandrarajpoot_hcrajpoot/38/