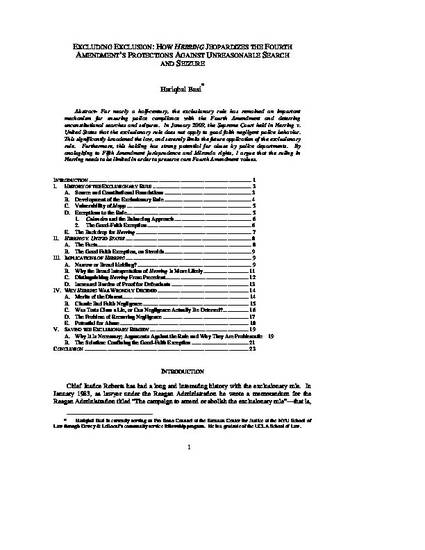 Unpublished Paper
Excluding Exclusion: How Herring Jeopardizes the Fourth Amendment's Protections Against Unreasonable Search and Seizure
ExpressO (2010)
Abstract
Abstract- For nearly a half-century, the exclusionary rule has remained an important mechanism for ensuring police compliance with the Fourth Amendment and deterring unconstitutional searches and seizures. In January 2009, the Supreme Court held in Herring v. United States that the exclusionary rule does not apply to good faith negligent police behavior. This significantly broadened the law, and severely limits the future application of the exclusionary rule. Furthermore, this holding has strong potential for abuse by police departments. By analogizing to Fifth Amendment jurisprudence and Miranda rights, I argue that the ruling in Herring needs to be limited in order to preserve core Fourth Amendment values.
Keywords
Fourth Amendment,
Herring,
Search and Seizure,
Criminal Procedure,
Criminal Law,
Constitutional protections
Publication Date
October 26, 2010
Citation Information
Hariqbal Basi. "Excluding Exclusion: How Herring Jeopardizes the Fourth Amendment's Protections Against Unreasonable Search and Seizure"
ExpressO
(2010)
Available at: http://works.bepress.com/hariqbal_basi/5/