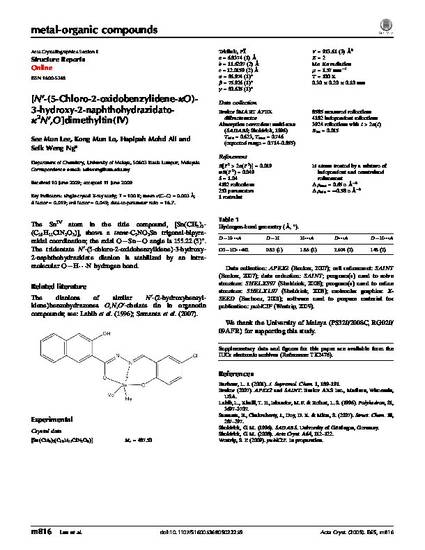 Article
N '-(5-Chloro-2-oxidobenzylidene-kappa O)-3-hydroxy-2-naphthohydrazidato-kappa N-2 ',O dimethyltin(IV)
Acta Crystallographica Section E-Structure Reports Online (2009)
Abstract
The Sn-IV atom in the title compound, [Sn(CH3)(2)-(C18H11ClN2O3)], shows a trans-C2NO2Sn trigonal-bipyramidal coordination; the axial O-Sn-O angle is 155.22 (5)degrees. The tridentate N'-(5-chloro-2-oxidobenzylidene)-3-hydroxy2-naphthohydrazidate dianion is stabilized by an intramolecular O-H center dot center dot center dot N hydrogen bond.
Citation Information
Hapipah Mohd Ali, Lee S. M., Lo K. M. and Ng S. W.. "N '-(5-Chloro-2-oxidobenzylidene-kappa O)-3-hydroxy-2-naphthohydrazidato-kappa N-2 ',O dimethyltin(IV)"
Acta Crystallographica Section E-Structure Reports Online
Vol. 65 (2009)
Available at: http://works.bepress.com/hapipah_mohdali/6/