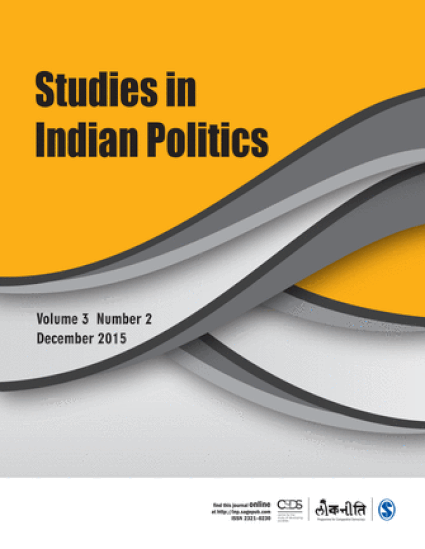 Article
India's Look East Policy: Prospects and Challenges for Northeast India
Studies in Indian Politics (2015)
Abstract
The disruption of old trade routes by colonial rulers, the Partition of 1947 and India's import substitution economy deprived northeast India of its natural markets. Of late, there has been much talk about the potentials of India's Look East policy in transforming the region. The inclusion of the northeastern region as an important component of this policy in 2003 is dubbed as the new paradigm of development in the Northeast. The policy envisages the region not as the periphery of India, but as the centre of a thriving and integrated economic space. Thus, many people see it as an excellent opportunity to integrate not only with mainland Indian economy but also with its neighbouring countries in the east and even beyond. In contrast, others view this policy as an extension of India's imperialism in a new form in that the Northeast will only provide a bridge between the rest of India and East and Southeast Asia. The main argument of such critics is that India is more concerned with the eastern neighbours and not its northeast. The article, while recognizing 'borders' as crucial in attempting to address the problems of the Northeast, assesses the prospects of 'Looking East' through this region and the challenges posed to it by post-colonial territoriality and other domestic problems. The integration of the Northeast economy with the neighbouring countries is basically implemented through the security-centric border management, wherein the opening of borders is limited to border trade points and fencing the rest of the erstwhile open borders. This increasing restrictive regulation and bureaucratic formalities on movement of people and goods across borders distort the traditional cross-border economic dependence and erode social ties with ethnic kins on the other side of the border. The article also explores the possible community–geography trade-offs in such borderlands.
Keywords
India's Look East policy,
sub-regional cooperation,
northeast India,
Sinophobia,
territoriality
Publication Date
December, 2015
Citation Information
Haokip, T. (2015). India's Look East Policy: Prospects and Challenges for Northeast India. Studies in Indian Politics, 3(2), 198-211.