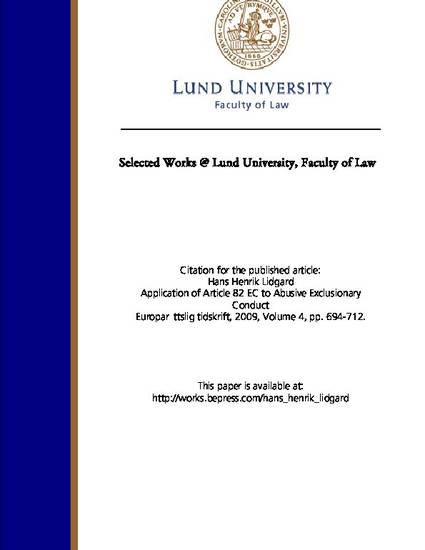 Article
Application of Article 82 EC to abusive exclusionary conduct – Refusal to supply or to license
Europarättslig Tidskrift (2009)
Abstract
Departing from fundamental concepts, this paper briefly recaps the case-law development with respect to refusal to deal on both sides of the Atlantic; revisits the EU Guidelines and recent U.S. development, and finally considers refusal to license. All with the purpose to understand whether the 2009 Guidelines actually restate the law as it stands today.
Keywords
U.S. antitrust law,
EU Competition law,
refusal to supply,
refusal to license,
refusal to deal
Citation Information
Hans Henrik Lidgard. "Application of Article 82 EC to abusive exclusionary conduct – Refusal to supply or to license"
Europarättslig Tidskrift
Vol. 4 (2009)
Available at: http://works.bepress.com/hans_henrik_lidgard/4/