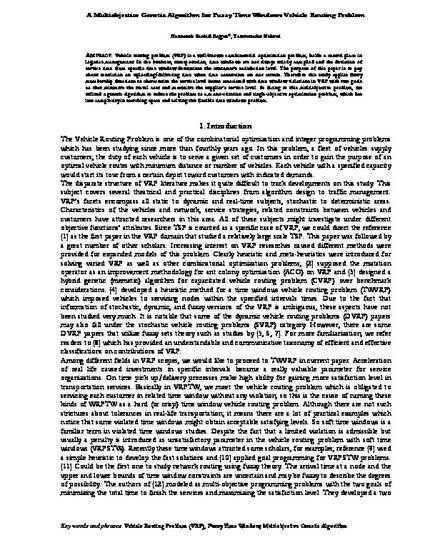 Popular Press
A Multiobjective Genetic Algorithm for Fuzzy Time Windows Vehicle Routing Problem
10th Iranian Conference on Fuzzy Systems (2010)
Abstract
Vehicle routing problem (VRP) is a well-known combinatorial optimization problem, holds a central place in logistics management. In the business, transportation, time windows are not always strictly complied and the deviation of service time from specific time window determines the customer's satisfaction level. The purpose of this paper is to pay about restriction on uploading/delivering time when time constraints are not certain. Therefore this study applies fuzzy membership functions to characterize the service level issues associated with time window violations in VRP with two goals so that minimize the travel cost and maximize the supplier's service level. In facing to this multiobjective problem, we utilized a genetic algorithm to reduce the problem to a mono-criterion and single-objective optimization problem, which has less complexity in searching space and solving this flexible time windows problem.
Keywords
Vehicle Routing Problem (VRP),
Fuzzy Time Window,
Multiobjective Genetic Algorithm
Publication Date
Summer July 14, 2010
Citation Information
Hannaneh Rashidi-Bajgan and Taravatsadat Nehzati. "A Multiobjective Genetic Algorithm for Fuzzy Time Windows Vehicle Routing Problem"
10th Iranian Conference on Fuzzy Systems
(2010)
Available at: http://works.bepress.com/hannaneh_rashidi/4/