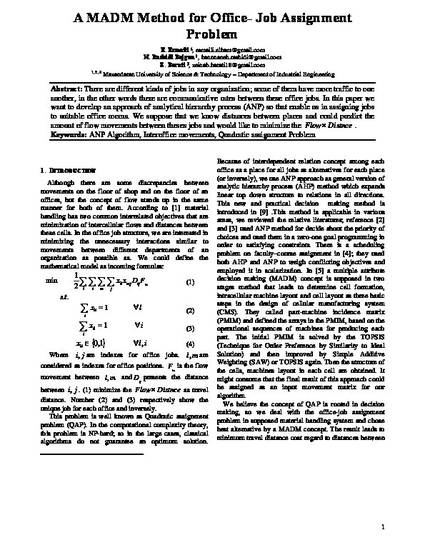 Popular Press
A MADM Method for Office˗ Job Assignment Problem
3rd International Conference of Iranian Operations Research Society (2010)
Abstract
There are different kinds of jobs in any organization; some of them have more traffic to one another, in the other words there are communicative rates between these office jobs. In this paper we want to develop an approach of analytical hierarchy process (ANP) so that enable us in assigning jobs to suitable office rooms. We suppose that we know distances between places and could predict the amount of flow movements between theses jobs and would like to minimize the distance×flow.
Keywords
ANP Algorithm,
Interoffice movements,
Quadratic assignment Problem
Publication Date
Spring May 5, 2010
Citation Information
Elham Esmaili, Hannaneh Rashidi-Bajgan and Zeinab Barati. "A MADM Method for Office˗ Job Assignment Problem"
3rd International Conference of Iranian Operations Research Society
(2010)
Available at: http://works.bepress.com/hannaneh_rashidi/2/