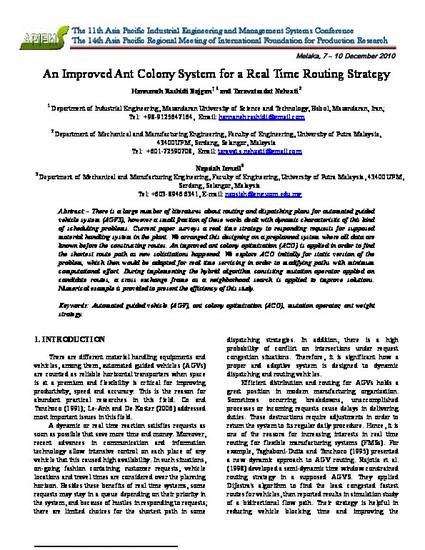 Popular Press
An Improved Ant Colony System for a Real Time Routing Strategy
Asia Pacific Industrial Engineering and Management Society (APIEMS) (2010)
Abstract
There is a large number of literatures about routing and dispatching plans for automated guided vehicle system (AGVS), however a small fraction of these works dealt with dynamic characteristic of this kind of scheduling problems. Current paper surveys a real time strategy to responding requests for supposed material handling system in the plant. We arranged this designing on a preplanned system where all data are known before the constructing routes. An improved ant colony optimization (ACO) is applied in order to find the shortest route path as new solicitations happened. We explore ACO initially for static version of the problem, which then would be adapted for real time servicing in order to modifying paths with minimum computational effort. During implementing the hybrid algorithm consisting mutation operator applied on candidate routes, a cross exchange frame as a neighborhood search is applied to improve solutions. Numerical example is provided to present the efficiency of this study.
Publication Date
Winter December 9, 2010
Citation Information
Hannaneh Rashidi-Bajgan, Taravatsadat Nehzati and Napsiah Ismail. "An Improved Ant Colony System for a Real Time Routing Strategy"
Asia Pacific Industrial Engineering and Management Society (APIEMS)
(2010)
Available at: http://works.bepress.com/hannaneh_rashidi/16/