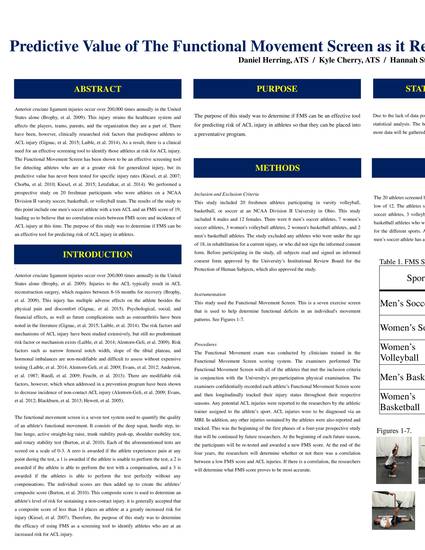 Presentation
Predictive Value of the Functional Movement Screen as it Relates to Anterior Cruciate Ligament Injury
The Research and Scholarship Symposium
Type of Submission
Poster
Keywords
Prevention,
ACL,
FMS,
screening
Abstract
Introduction: Anterior cruciate ligament injuries occur over 200,000 times annually in the United States alone (Brophy, et al. 2009). This injury strains the healthcare system and affects the players, teams, parents, and the organization they are a part of. There have been, however, clinically researched risk factors that predispose athletes to ACL injury (Gignac, et al. 2015; Laible, et al. 2014). As a result, there is a clinical need for an effective screening tool to identify those athletes at risk for ACL injury. The Functional Movement Screen has been shown to be an effective screening tool for detecting athletes who are at a greater risk for generalized injury, but its predictive value has never been tested for specific injury rates (Kiesel, et al. 2007; Chorba, et al. 2010; Kiesel, et al. 2015; Letafatkar, et al. 2014).
Methods: We performed a prospective study on 20 freshman participants who were athletes on a NCAA Division II varsity soccer, basketball, or volleyball team.
Results: The results of the study to this point include one men's soccer athlete with a torn ACL and an FMS score of 19, leading us to believe that no correlation exists between FMS score and incidence of ACL injury at this time. The purpose of this study was to determine if FMS can be an effective tool for predicting risk of ACL injury in athletes.
Campus Venue
Stevens Student Center
Location
Cedarville University
Start Date
4-20-2016 11:00 AM
End Date
4-20-2016 2:00 PM
Creative Commons License
Creative Commons Attribution-Noncommercial-No Derivative Works 4.0
Citation Information
Daniel A. Herring, Kyle D. Cherry and Hannah L. Stedge. "Predictive Value of the Functional Movement Screen as it Relates to Anterior Cruciate Ligament Injury" (2016)
Available at: http://works.bepress.com/hannah_stedge/11/