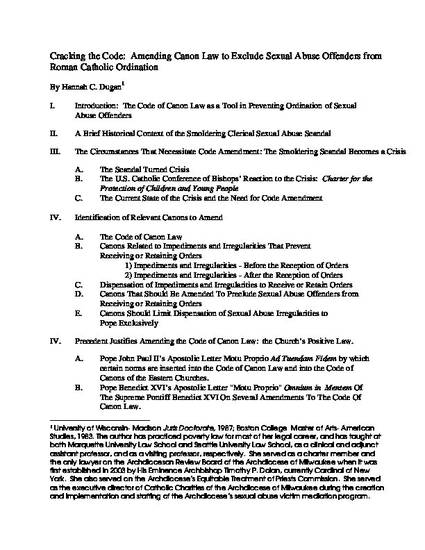 Unpublished Paper
Cracking the Code: Amending Canon Law to Exclude Sexual Abuse Offenders from Roman Catholic Ordination
ExpressO (2013)
Abstract
Abstract: In 2002, a public scandal broke in the United States revealing the depth of Roman Catholic clerical sex abuse, and exposing the breadth of failed episcopal response to victim complaints. Many civil, criminal, religious and bankruptcy court matters have been pursued to bring justice for victims and survivors. However, the Church's Code of Canon Law, that lists specifically who may not be ordained, does not exclude sexual abuse offenders from holy orders. This article discusses legal and extra-legal remedies in the wake of the sexual abuse scandal, and argues for amending the Code of Canon Law so that the Church's own legislation and juridical processes explicitly preclude and prohibit a man from receiving orders, and an ordained cleric from continuing in orders, if he has perpetrated sexual abuse against a vulnerable person.
Keywords
Catholic Church Code of Canon Law,
Catholic priest sexual abuse scandal,
clerical sexual abuse crisis
Publication Date
August 7, 2013
Citation Information
Hannah C. Dugan. "Cracking the Code: Amending Canon Law to Exclude Sexual Abuse Offenders from Roman Catholic Ordination"
ExpressO
(2013)
Available at: http://works.bepress.com/hannah_c_dugan/1/