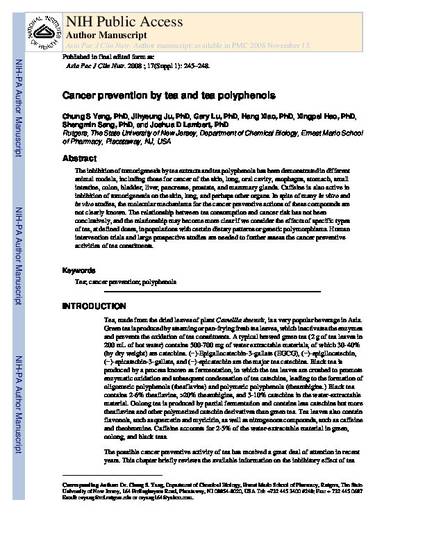 Article
Cancer Prevention by Tea and Tea Polyphenols
Asian Pacific Journal of Clinical Nutrition 17 Supplement (2008)
Abstract
The inhibition of tumorigenesis by tea extracts and tea polyphenols has been demonstrated in different animal models, including those for cancer of the skin, lung, oral cavity, esophagus, stomach, small intestine, colon, bladder, liver, pancrease, prostate, and mammary glands. Caffeine is also active in inhibition of tumorigenesis on the skin, lung, and perhaps other organs. In spite of many in vitro and in vivo studies, the molecular mechanisms for the cancer preventive actions of these compounds are not clearly known. The relationship between tea consumption and cancer risk has not been conclusively, and the relationship may become more clear if we consider the effects of specific types of tea, at defined doses, in populations with certain dietary patterns or genetic polymorphisms. Human intervention trials and large prospective studies are needed to further assess the cancer preventive activities of tea constituents.
Keywords
Tea,
Cancer Prevention,
Polyphenols
Citation Information
Hang Xiao, C.S. Yang, J. Ju, G. Lu, et al.. "Cancer Prevention by Tea and Tea Polyphenols"
Asian Pacific Journal of Clinical Nutrition 17 Supplement
Vol. 1 (2008)
Available at: http://works.bepress.com/hang_xiao/19/