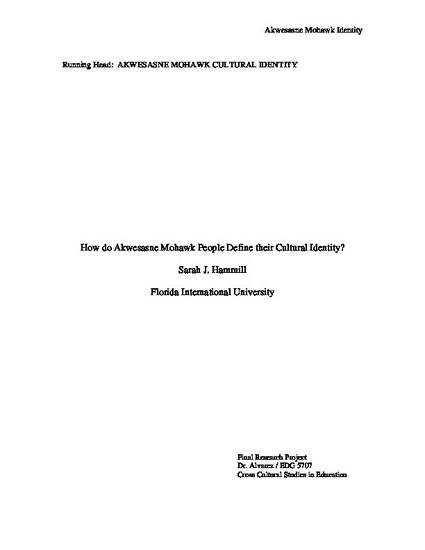 Article
How do Akwesasne Mohawk People Define their Cultural Identity?
Works of the FIU Libraries
Date of this Version
9-1-2004
Abstract
This paper focuses on the cultural identity of the St. Regis Akwesasne Mohawk Indians. First, it will explain my rational for choosing to examine the cultural identity of this particular group followed by the objectives of the research. The paper will give some history and background on the Akwesasne Mohawks. It will review the literature on cultural identity specifically focusing on the identity of Native People. Next, will be a review of the interviews conducted followed by an analysis and discussion of the data. Finally, the paper will conclude with some educational implications based on the research.
Citation Information
Sarah J Hammill. "How do Akwesasne Mohawk People Define their Cultural Identity?" (2004)
Available at: http://works.bepress.com/hammills/1/