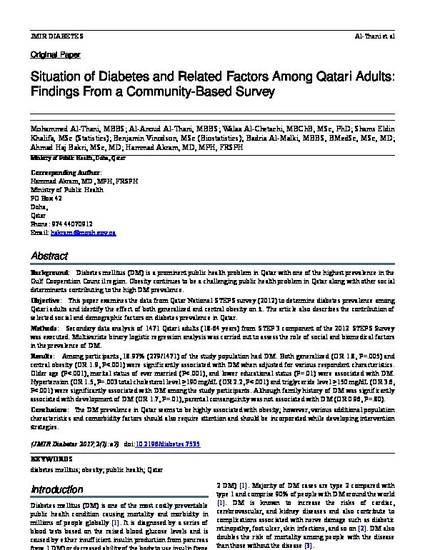 Article
Situation of Diabetes and Related Factors Among Qatari Adults: Findings From a Community-Based Survey
JMIR Diabetes (2017)
Abstract
Background: 
Diabetes mellitus (DM) is a prominent public health problem in Qatar with one of the highest prevalence in the Gulf Cooperation Council region. Obesity continues to be a challenging public health problem in Qatar along with other social determinants contributing to the high DM prevalence.
Objective: 
This paper examines the data from Qatar National STEPS survey (2012) to determine diabetes prevalence among Qatari adults and identify the effect of both generalized and central obesity on it. The article also describes the contribution of selected social and demographic factors on diabetes prevalence in Qatar.
Methods: 
Secondary data analysis of 1471 Qatari adults (18-64 years) from STEP 3 component of the 2012 STEPS Survey was executed. Multivariate binary logistic regression analysis was carried out to assess the role of social and biomedical factors in the prevalence of DM.
Results: 
Among participants, 18.97% (279/1471) of the study population had DM. Both generalized (OR 1.8, P=.005) and central obesity (OR 1.9, P<.001) were significantly associated with DM when adjusted for various respondent characteristics. Older age (P<.001), marital status of ever married (P<.001), and lower educational status (P=.01) were associated with DM. Hypertension (OR 1.5, P=.003 total cholesterol level ≥190 mg/dL (OR 2.2, P<.001) and triglyceride level ≥150 mg/dL (OR 3.6, P<.001) were significantly associated with DM among the study participants. Although family history of DM was significantly associated with development of DM (OR 1.7, P=.01), parental consanguinity was not associated with DM (OR 0.96, P=.80).
Conclusions: 
The DM prevalence in Qatar seems to be highly associated with obesity; however, various additional population characteristics and comorbidity factors should also require attention and should be incorporated while developing intervention strategies.
JMIR Diabetes 2017;2(1):e7
doi:10.2196/diabetes.7535
Publication Date
Spring May 3, 2017
DOI
doi:10.2196/diabetes.7535
Citation Information
Mohammed Al-Thani, Al-Anoud Al-Thani, Walaa Al-Chetachi, Shams Eldin Khalifa, et al.. "Situation of Diabetes and Related Factors Among Qatari Adults: Findings From a Community-Based Survey"
JMIR Diabetes
Vol. 2 Iss. 1 (2017)
Available at: http://works.bepress.com/hammad-akram/8/