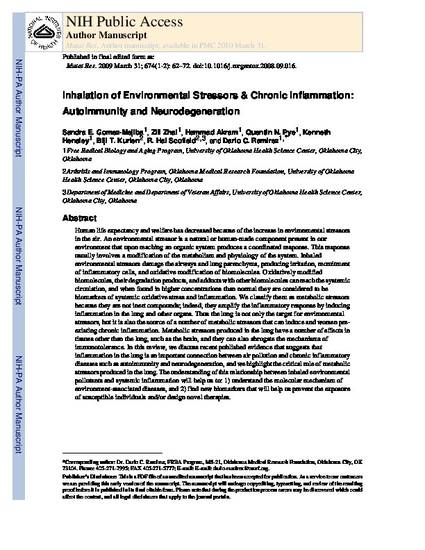 Article
Inhalation of Environmental Stressors & Chronic Inflammation: Autoimmunity and Neurodegeneration
Mutat Res. (2009)
Abstract
Human life expectancy and welfare has decreased because of the increase in environmental stressors in the air. An environmental stressor is a natural or human-made component present in our environment that upon reaching an organic system produces a coordinated response. This response usually involves a modification of the metabolism and physiology of the system. Inhaled environmental stressors damage the airways and lung parenchyma, producing irritation, recruitment of inflammatory cells, and oxidative modification of biomolecules. Oxidatively modified biomolecules, their degradation products, and adducts with other biomolecules can reach the systemic circulation, and when found in higher concentrations than normal they are considered to be biomarkers of systemic oxidative stress and inflammation. We classify them as metabolic stressors because they are not inert compounds; indeed, they amplify the inflammatory response by inducing inflammation in the lung and other organs. Thus the lung is not only the target for environmental stressors, but it is also the source of a number of metabolic stressors that can induce and worsen pre-existing chronic inflammation. Metabolic stressors produced in the lung have a number of effects in tissues other than the lung, such as the brain, and they can also abrogate the mechanisms of immunotolerance. In this review, we discuss recent published evidence that suggests that inflammation in the lung is an important connection between air pollution and chronic inflammatory diseases such as autoimmunity and neurodegeneration, and we highlight the critical role of metabolic stressors produced in the lung. The understanding of this relationship between inhaled environmental pollutants and systemic inflammation will help us to: 1) understand the molecular mechanism of environment-associated diseases, and 2) find new biomarkers that will help us prevent the exposure of susceptible individuals and/or design novel therapies.
Publication Date
March, 2009
Citation Information
Hammad Akram. "Inhalation of Environmental Stressors & Chronic Inflammation: Autoimmunity and Neurodegeneration"
Mutat Res.
(2009)
Available at: http://works.bepress.com/hammad-akram/11/