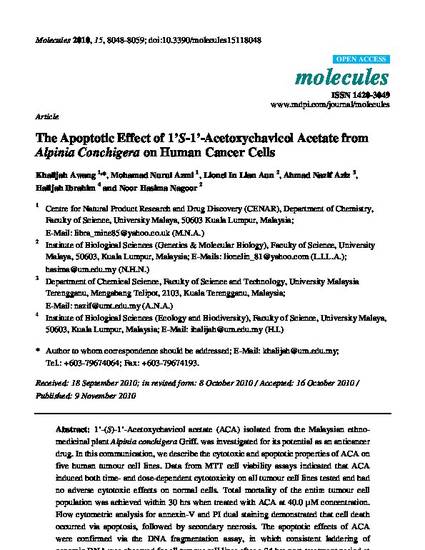 Article
The Apoptotic Effect of 1 ' S-1 '-Acetoxychavicol Acetate from Alpinia Conchigera on Human Cancer Cells
Molecules (2010)
Abstract
1'-(S)-1'-Acetoxychavicol acetate (ACA) isolated from the Malaysian ethno-medicinal plant Alpinia conchigera Griff. was investigated for its potential as an anticancer drug. In this communication, we describe the cytotoxic and apoptotic properties of ACA on five human tumour cell lines. Data from MTT cell viability assays indicated that ACA induced both time- and dose-dependent cytotoxicity on all tumour cell lines tested and had no adverse cytotoxic effects on normal cells. Total mortality of the entire tumour cell population was achieved within 30 hrs when treated with ACA at 40.0 microM concentration. Flow cytometric analysis for annexin-V and PI dual staining demonstrated that cell death occurred via apoptosis, followed by secondary necrosis. The apoptotic effects of ACA were confirmed via the DNA fragmentation assay, in which consistent laddering of genomic DNA was observed for all tumour cell lines after a 24 hrs post-treatment period at the IC(50) concentration of ACA. A cell cycle analysis using PI staining also demonstrated that ACA induced cell cycle arrest at the G(0)/G(1) phase, corresponding to oral tumour cell lines. In conclusion, ACA exhibits enormous potential for future development as a chemotherapeutic drug against various malignancies.
Keywords
Alpinia/*chemistry,
Antineoplastic Agents/isolation & purification/*pharmacology,
Apoptosis/*drug effects,
Benzyl Alcohols/isolation & purification/*pharmacology,
Cell Cycle/*drug effects,
Cell Line,
Tumor Cell Line,
Tumor,
Cell Survival/drug effects,
Chromatography,
Liquid,
Hep G2 Cells,
Humans,
Inhibitory Concentration 50,
Mass Spectrometry,
Plant Extracts/isolation & purification/*pharmacology
Citation Information
Halijah Ibrahim, Aziz A. N., Nagoor N. H., Awang K., et al.. "The Apoptotic Effect of 1 ' S-1 '-Acetoxychavicol Acetate from Alpinia Conchigera on Human Cancer Cells"
Molecules
Vol. 15 Iss. 11 (2010)
Available at: http://works.bepress.com/halijah_ibrahim/3/