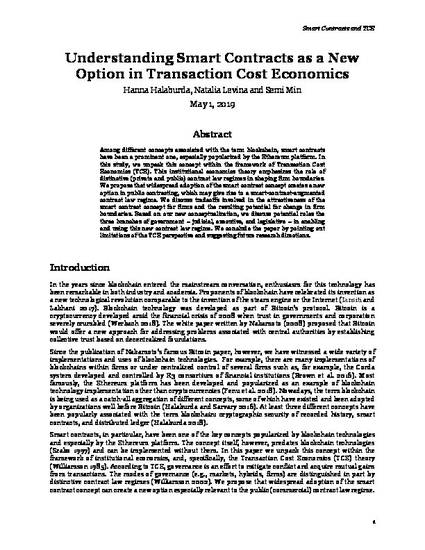 Unpublished Paper
Understanding Smart Contracts as a New Option in Transaction Cost Economics
Proceedings of the 40th International Conference on Information Systems, Munich, Germany, December 2019 (2019)
Abstract
Among different concepts associated with the term blockchain, smart contracts have been a prominent one, especially popularized by the Ethereum platform. In this study, we unpack this concept within the framework of Transaction Cost Economics (TCE). This institutional economics theory emphasizes the role of distinctive (private and public) contract law regimes in shaping firm boundaries. We propose that widespread adoption of the smart contract concept creates a new option in public contracting, which may give rise to a smart-contract-augmented
contract law regime. We discuss tradeoffs involved in the attractiveness of the smart contract concept for firms and the resulting potential for change in firm boundaries. Based on our new conceptualization, we discuss potential roles the three branches of government – judicial, executive, and legislative – in enabling and using this new contract law regime. We conclude the paper by pointing out limitations of the TCE perspective and suggesting future research directions.
Keywords
smart contracts,
blockchain,
TCE,
smart contracts specification costs,
asset specificity
Publication Date
May 1, 2019
Citation Information
Halaburda, Hanna and Levina, Natalia and Semi, Min, Understanding Smart Contracts as a New Option in Transaction Cost Economics (May 1, 2019). Proceedings of the 40th International Conference on Information Systems, Munich, Germany, December 2019.