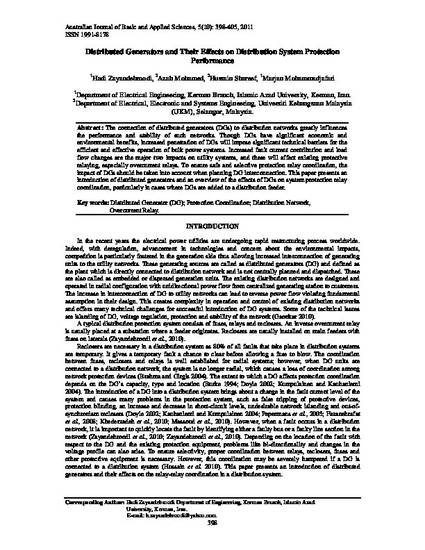 Article
Distributed Generator and Their Effects on Distribution System Protection Performance
Australian Journal of Basic and Applied Sciences (2011)
Abstract
The connection of distributed generators (DGs) to distribution networks greatly influences the performance and stability of such networks. Though DGs have significant economic and environmental benefits, increased penetration of DGs will impose significant technical barriers for the efficient and effective operation of bulk power systems. Increased fault current contribution and load flow changes are the major two impacts on utility systems, and these will affect existing protective relaying, especially overcurrent relays. To ensure safe and selective protection relay coordination, the impact of DGs should be taken into account when planning DG interconnection. This paper presents an introduction of distributed generators and an overview of the effects of DGs on system protection relay coordination, particularly in cases where DGs are added to a distribution feeder.
Keywords
Distributed Generator (DG); Protection Coordination; Distribution Network,
Overcurrent Relay.
Publication Date
Fall October, 2011
Citation Information
Hadi Zayandehroodi, Azah Mohamed, Hussain Shareef and Marjan Mohammadjafari. "Distributed Generator and Their Effects on Distribution System Protection Performance"
Australian Journal of Basic and Applied Sciences
Vol. 5 Iss. 10 (2011)
Available at: http://works.bepress.com/hadi_zayandehroodi/14/