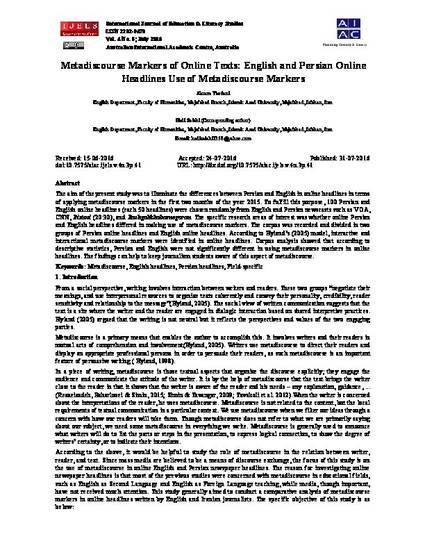 Article
Metadiscourse Markers of Online Texts, English and Persian Online Headlines Use of Metadiscourse Markers.pdf
International Journal of Education & Literacy Studies (2016)
Abstract
The aim of the present study was to illuminate the differences between Persian and English in online headlines in terms of applying metadiscourse markers in the first two months of the year 2015. To fulfill this purpose, 100 Persian and English online headlines (each 50 headlines) were chosen randomly from English and Persian newscasts such as VOA, CNN, Bistosi (20:30), and Bashgahkhabarnegaran. The specific research areas of interest was whether online Persian and English headlines differed in making use of metadiscourse markers. The corpus was recorded and divided in two groups of Persian online headlines and English online headlines. According to Hyland's (2005) model, interactive and interactional metadiscourse markers were identified in online headlines. Corpus analysis showed that according to descriptive statistics, Persian and English were not significantly different in using metadiscourse markers in online headlines. The findings can help to keep journalism students aware of this aspect of metadiscourse.
Citation Information
Hadi Salehi. "Metadiscourse Markers of Online Texts, English and Persian Online Headlines Use of Metadiscourse Markers.pdf"
International Journal of Education & Literacy Studies
(2016)
Available at: http://works.bepress.com/hadi_salehi/27/