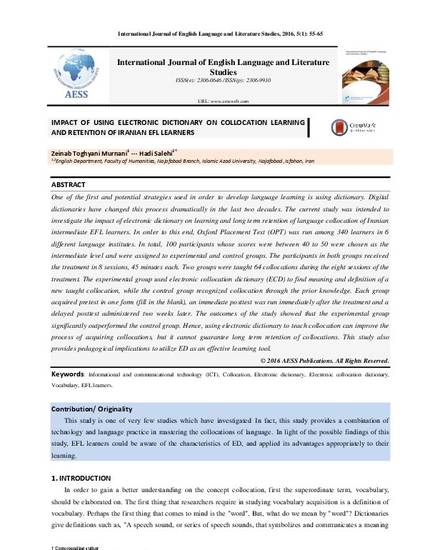 Article
Impact of Using Electronic Dictionary on Collocation Learning and Retention of Iranian EFL Learners.pdf
International Journal of English Language and Literature Studies (2016)
Abstract
One of the first and potential strategies used in order to develop language learning is using dictionary. Digital dictionaries have changed this process dramatically in the last two decades. The current study was intended to investigate the impact of electronic dictionary on learning and long term retention of language collocation of Iranian intermediate EFL learners. In order to this end, Oxford Placement Test (OPT) was run among 340 learners in 6 different language institutes. In total, 100 participants whose scores were between 40 to 50 were chosen as the intermediate level and were assigned to experimental and control groups. The participants in both groups received the treatment in 8 sessions, 45 minutes each. Two groups were taught 64 collocations during the eight sessions of the treatment. The experimental group used electronic collocation dictionary (ECD) to find meaning and definition of a new taught collocation, while the control group recognized collocation through the prior knowledge. Each group acquired pretest in one form (fill in the blank), an immediate posttest was run immediately after the treatment and a delayed posttest administered two weeks later. The outcomes of the study showed that the experimental group significantly outperformed the control group. Hence, using electronic dictionary to teach collocation can improve the process of acquiring collocations, but it cannot guarantee long term retention of collocations. This study also provides pedagogical implications to utilize ED as an effective learning tool.
Keywords
Informational and communicational technology (ICT),
Collocation,
Electronic dictionary,
Electronic collocation dictionary,
Vocabulary,
EFL learners
Citation Information
Hadi Salehi. "Impact of Using Electronic Dictionary on Collocation Learning and Retention of Iranian EFL Learners.pdf"
International Journal of English Language and Literature Studies
(2016)
Available at: http://works.bepress.com/hadi_salehi/23/