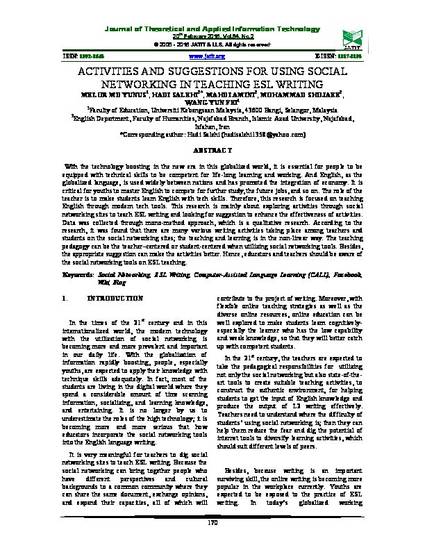 Article
Activities and Suggestions for Using Social Networking in Teaching ESL Writing.pdf
JATIT (2016)
Abstract
With the technology boosting in the new era in this globalized world, it is essential for people to be equipped with technical skills to be competent for life-long learning and working. And English, as the globalized language, is used widely between nations and has promoted the integration of economy. It is critical for youths to master English to compete for further study, the future jobs, and so on. The role of the teacher is to make students learn English with tech skills. Therefore, this research is focused on teaching English through modern tech tools. This research is mainly about exploring activities through social networking sites to teach ESL writing and looking for suggestion to enhance the effectiveness of activities. Data was collected through mono-method approach, which is a qualitative research. According to the research, it was found that there are many various writing activities taking place among teachers and students on the social networking sites; the teaching and learning is in the non-linear way. The teaching pedagogy can be the teacher–centered or student-centered when utilizing social networking tools. Besides, the appropriate suggestion can make the activities better. Hence, educators and teachers should be aware of the social networking tools on ESL teaching.
Keywords
Social Networking,
ESL Writing,
Computer-Assisted Language Learning (CALL),
Facebook,
Wiki,
Blog
Citation Information
Hadi Salehi. "Activities and Suggestions for Using Social Networking in Teaching ESL Writing.pdf"
JATIT
(2016)
Available at: http://works.bepress.com/hadi_salehi/17/