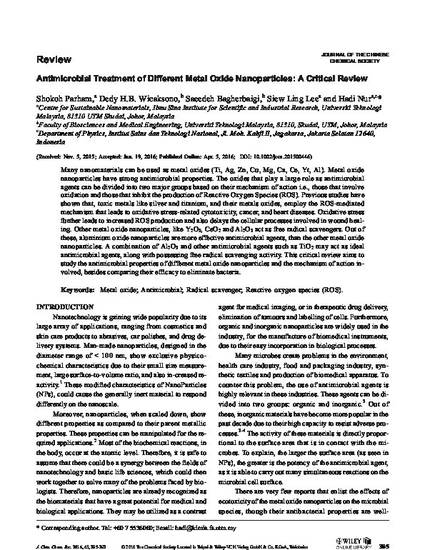 Article
Antimicrobial treatment of different metal oxide nanoparticles: A critical review
Journal of the Chinese Chemical Society (2016)
Abstract
Many nanomaterials can be used as metal oxides (Ti, Ag, Zn, Cu, Mg, Ca, Ce, Yt, Al). Metal oxide nanoparticles have strong antimicrobial properties. The oxides that play a large role as antimicrobial agents can be divided into two major groups based on their mechanism of action i.e., those that involve oxidation and those that inhibit the production of Reactive Oxygen Species (ROS). Previous studies have shown that, toxic metals like silver and titanium, and their metals oxides, employ the ROS-mediated mechanism that leads to oxidative stress-related cytotoxicity, cancer, and heart diseases. Oxidative stress further leads to increased ROS production and also delays the cellular processes involved in wound healing. Other metal oxide nanoparticles, like Y2O3, CeO2 and Al2O3 act as free radical scavengers. Out of these, aluminium oxide nanoparticles are more effective antimicrobial agents, than the other metal oxide nanoparticles. A combination of Al2O3 and other antimicrobial agents such as TiO2 may act as ideal antimicrobial agents, along with possessing free radical scavenging activity. This critical review aims to study the antimicrobial properties of different metal oxide nanoparticles and the mechanism of action involved, besides comparing their efficacy to eliminate bacteria.
Keywords
Metal oxide,
Antimicrobial,
Radical scavenger,
Reactive oxygen species (ROS)
Citation Information
Shokoh Parham, Dedy H.B. Wicaksono, Saeedeh Bagherbaigi, Siew Ling Lee, et al.. "Antimicrobial treatment of different metal oxide nanoparticles: A critical review"
Journal of the Chinese Chemical Society
Vol. 63 (2016) p. 385 - 393 ISSN: 10.1002/jccs.201500446
Available at: http://works.bepress.com/hadi_nur/84/