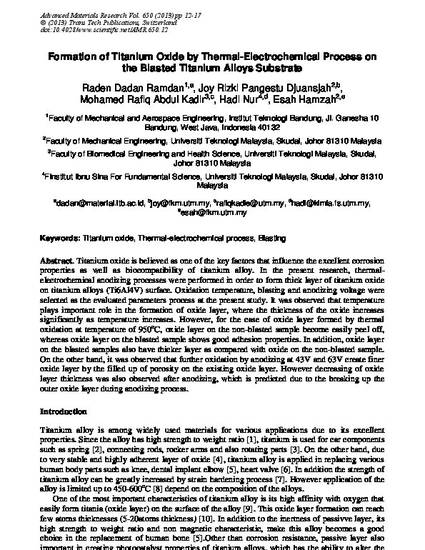 Article
Formation of Titanium Oxide by Thermal-Electrochemical Process on the Blasted Titanium Alloys Substrate
Advanced Materials Research (2013)
Abstract
Titanium oxide is believed as one of the key factors that influence the excellent corrosion properties as well as biocompatibility of titanium alloy. In the present research, thermal- electrochemical anodizing processes were performed in order to form thick layer of titanium oxide on titanium alloys (Ti6Al4V) surface. Oxidation temperature, blasting and anodizing voltage were selected as the evaluated parameters process at the present study. It was observed that temperature plays important role in the formation of oxide layer, where the thickness of the oxide increases significantly as temperature increases. However, for the case of oxide layer formed by thermal oxidation at temperature of 950oC, oxide layer on the non-blasted sample become easily peel off, whereas oxide layer on the blasted sample shows good adhesion properties. In addition, oxide layer on the blasted samples also have thicker layer as compared with oxide on the non-blasted sample. On the other hand, it was observed that further oxidation by anodizing at 43V and 63V create finer oxide layer by the filled up of porosity on the existing oxide layer. However decreasing of oxide layer thickness was also observed after anodizing, which is predicted due to the breaking up the outer oxide layer during anodizing process.
Keywords
Titanium oxide,
Thermal-electrochemical process,
Blasting
Citation Information
Raden Dadan Ramdan, Joy Rizki Pangestu Djuansjah, Mohamed Rafiq Abdul Kadir, Hadi Nur, et al.. "Formation of Titanium Oxide by Thermal-Electrochemical Process on the Blasted Titanium Alloys Substrate"
Advanced Materials Research
Vol. 650 (2013)
Available at: http://works.bepress.com/hadi_nur/76/