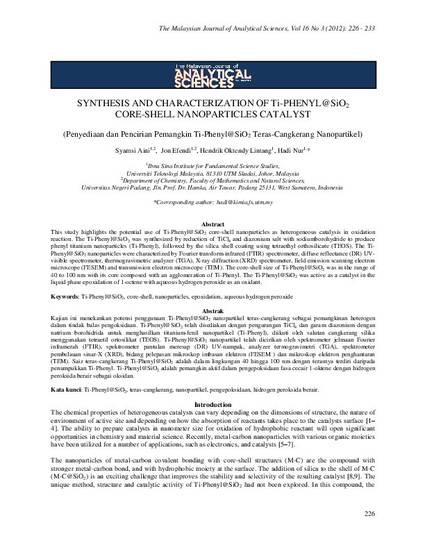 Article
Synthesis and characterization of Ti-Phenyl@SiO2 core-shell nanoparticles catalyst
The Malaysian Journal of Analytical Sciences (2012)
Abstract
This study highlights the potential use of Ti-Phenyl@SiO2 core-shell nanoparticles as heterogeneous catalysis in oxidation reaction. The Ti-Phenyl@SiO2 was synthesized by reduction of TiCl4 and diazonium salt with sodiumborohydride to produce phenyl titanium nanoparticles (Ti-Phenyl), followed by the silica shell coating using tetraethyl orthosilicate (TEOS). The Ti-Phenyl@SiO2 nanoparticles were characterized by Fourier transform infrared (FTIR) spectrometer, diffuse reflectance (DR) UV-visible spectrometer, thermogravimetric analyzer (TGA), X-ray diffraction (XRD) spectrometer, field emission scanning electron microscope (FESEM) and transmission electron microscope (TEM). The core-shell size of Ti-Phenyl@SiO2 was in the range of 40 to 100 nm with its core composed with an agglomeration of Ti-Phenyl. The Ti-Phenyl@SiO2 was active as a catalyst in the liquid phase epoxidation of 1-octene with aqueous hydrogen peroxide as an oxidant.
Publication Date
December 1, 2012
Citation Information
Syamsi Aini, Jon Efendi, Hendrik Oktendy Lintang and Hadi Nur. "Synthesis and characterization of Ti-Phenyl@SiO2 core-shell nanoparticles catalyst"
The Malaysian Journal of Analytical Sciences
Vol. 16 Iss. 3 (2012)
Available at: http://works.bepress.com/hadi_nur/74/