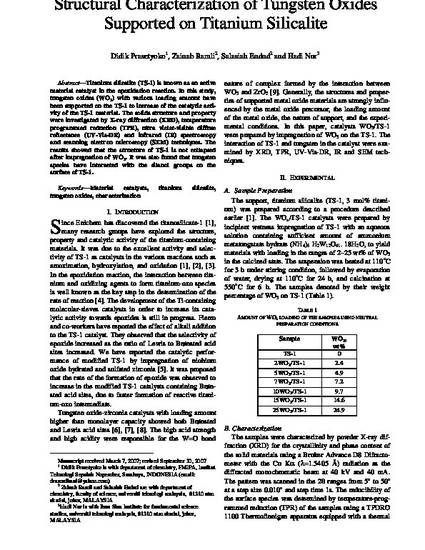 Article
Structural Characterization of Tungsten Oxides Supported on Titanium Silicalite
IPTEK,The Journal for Technology and Science (2008)
Abstract
Titanium silicalite (TS-1) is known as an active material catalyst in the epoxidation reaction. In this study, tungsten oxides (WO3) with various loading amount have been supported on the TS-1 to increase of the catalytic activity of the TS-1 material. The solids structure and property were investigated by X-ray diffraction (XRD), temperature programmed reduction (TPR), ultra violet-visible diffuse reflectance (UV-Vis-DR) and infrared (IR) spectroscopy and scanning electron microscopy (SEM) techniques. The results showed that the structure of TS-1 is not collapsed after impregnation of WO3. It was also found that tungsten species have interacted with the silanol groups on the surface of TS-1.
Citation Information
Didik Prasetyoko, Zainab Ramli, Salasiah Endud and Hadi Nur. "Structural Characterization of Tungsten Oxides Supported on Titanium Silicalite"
IPTEK,The Journal for Technology and Science
Vol. 19 Iss. 2 (2008)
Available at: http://works.bepress.com/hadi_nur/73/