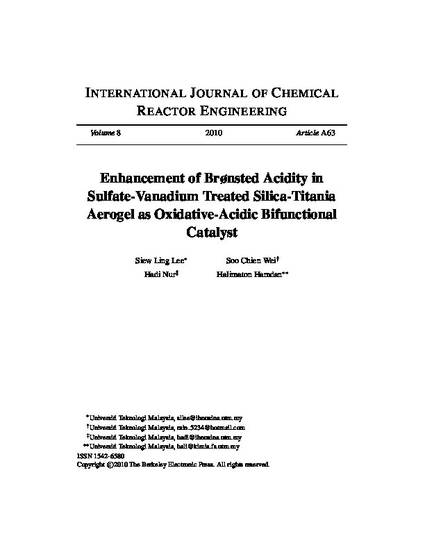 Article
Enhancement of Brønsted Acidity in Sulfate-Vanadium Treated Silica-Titania Aerogel as Oxidative-Acidic Bifunctional Catalyst
International Journal of Chemical Reactor Engineering (2010)
Abstract
Enhancement of Brønsted acidity in silica-titania aerogel was achieved by loading both sulfate and vanadium onto the material. This phenomena could be due to formation of V(OSi)2OH-O-SO3 in the resulted sample. In contrast, no noticeable Brønsted acidity was detected in vanadium loaded silica-titania aerogel (V/ST). UV-vis DR analysis results showed that the amount of hydrated tetrahedral titanium species, which acts as oxidative site, increased significantly upon sulfation and vanadium loading on the surface of the aerogel. However, presence of vanadium in the samples tended to transform framework tetrahedral titanium to extra framework octahedral titanium structure. The catalytic performance of the samples were evaluated in consecutive transformation of 1-octene to 1,2-octanediol through formation of 1,2-epoxyoctane using aqueous H2O2.
Citation Information
Siew Ling Lee, Soo Chien Wei, Hadi Nur and Halimaton Hamdan. "Enhancement of Brønsted Acidity in Sulfate-Vanadium Treated Silica-Titania Aerogel as Oxidative-Acidic Bifunctional Catalyst"
International Journal of Chemical Reactor Engineering
Vol. 8 Iss. A63 (2010)
Available at: http://works.bepress.com/hadi_nur/50/