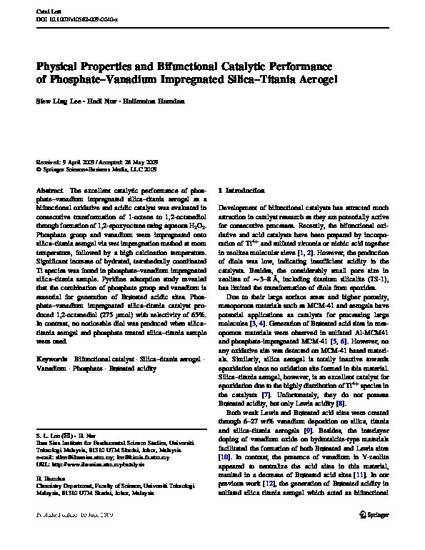 Article
Physical Properties and Bifunctional Catalytic Performance of Phosphate–Vanadium Impregnated Silica–Titania Aerogel
Catalysis Letters (2009)
Abstract
The excellent catalytic performance of phosphate–vanadium impregnated silica–titania aerogel as a bifunctional oxidative and acidic catalyst was evaluated in consecutive transformation of 1-octene to 1,2-octanediol through formation of 1,2-epoxyoctane using aqueous H2O2. Phosphate group and vanadium were impregnated onto silica–titania aerogel via wet impregnation method at room temperature, followed by a high calcination temperature. Significant increase of hydrated, tetrahedrally coordinated Ti species was found in phosphate–vanadium impregnated silica–titania sample. Pyridine adsorption study revealed that the combination of phosphate group and vanadium is essential for generation of Brønsted acidic sites. Phosphate– vanadium impregnated silica–titania catalyst produced 1,2-octanediol (275 lmol) with selectivity of 65%. In contrast, no noticeable diol was produced when silica– titania aerogel and phosphate treated silica–titania sample were used.
Keywords
Bifunctional catalyst,
Silica–titania aerogel,
Vanadium,
Phosphate,
Brønsted acidity
Citation Information
Lee Siew Ling, Hadi Nur and Halimaton Hamdan. "Physical Properties and Bifunctional Catalytic Performance of Phosphate–Vanadium Impregnated Silica–Titania Aerogel"
Catalysis Letters
Vol. in press (2009)
Available at: http://works.bepress.com/hadi_nur/47/