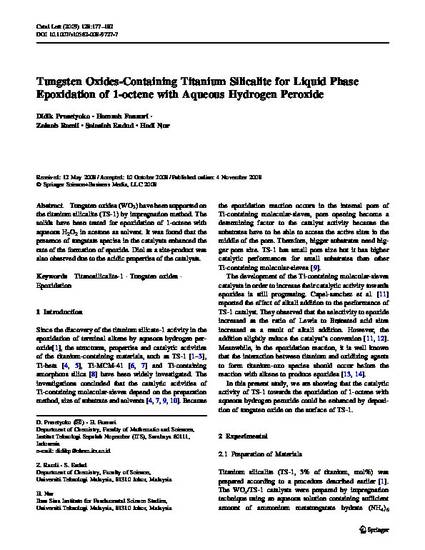 Article
Tungsten oxides - containing titanium silicalite for liquid phase epoxidation of 1-octene with aqueous hydrogen peroxide
Catalysis Letters (2009)
Abstract
Tungsten oxides (WO3) have been supported on the titanium silicalite (TS-1) by impregnation method. The solids have been tested for epoxidation of 1-octene with aqueous H2O2 in acetone as solvent. It was found that the presence of tungstate species in the catalysts enhanced the rate of the formation of epoxide. Diol as a site-product was also observed due to the acidic properties of the catalysts.
Keywords
Titanosilicalite-1,
Tungsten oxides
Citation Information
Didik Prasetyoko, Hamzah Fansuri, Zainab Ramli, Salasiah Endud, et al.. "Tungsten oxides - containing titanium silicalite for liquid phase epoxidation of 1-octene with aqueous hydrogen peroxide"
Catalysis Letters
Vol. 128 (2009)
Available at: http://works.bepress.com/hadi_nur/43/