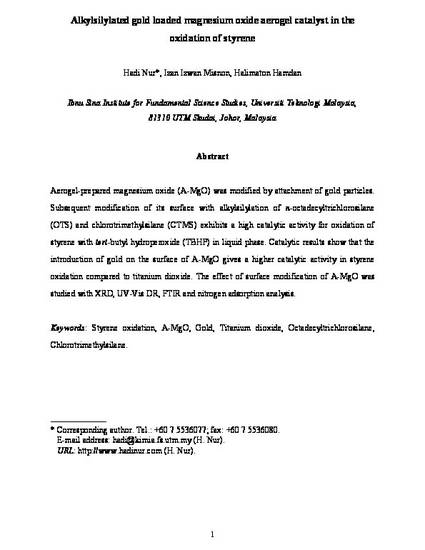 Article
Alkylsilylated gold loaded magnesium oxide aerogel catalyst in the oxidation of styrene
Catalysis Letters (2009)
Abstract
Aerogel-prepared magnesium oxide (A-MgO) was modified by attachment of gold particles. Subsequent modification of its surface with alkylsilylation of n-octadecyltrichlorosilane (OTS) and chlorotrimethylsilane (CTMS) exhibits a high catalytic activity for oxidation of styrene with tert-butyl hydroperoxide (TBHP) in liquid phase. Catalytic results show that the introduction of gold on the surface of A-MgO gives a higher catalytic activity in styrene oxidation compared to titanium dioxide. The effect of surface modification of A-MgO was studied with XRD, UV-Vis DR, FTIR and nitrogen adsorption analysis.
Keywords
Styrene oxidation,
A-MgO,
Gold,
Titanium dioxide,
Octadecyltrichlorosilane,
Chlorotrimethylsilane.
Citation Information
Hadi Nur, Izan Izwan Misnon and Halimaton Hamdan. "Alkylsilylated gold loaded magnesium oxide aerogel catalyst in the oxidation of styrene"
Catalysis Letters
Iss. in press (2009)
Available at: http://works.bepress.com/hadi_nur/42/