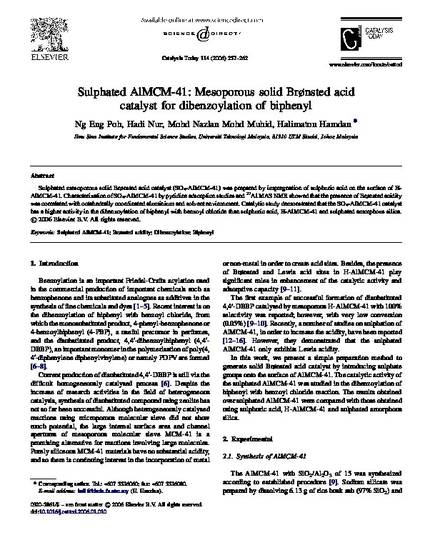 Article
Sulphated AlMCM-41: Mesoporous solid Brønsted acid catalyst for dibenzoylation of biphenyl
Catalysis Today (2006)
Abstract
Sulphated mesoporous solid Brønsted acid catalyst (SO4-AlMCM-41) was prepared by impregnation of sulphuric acid on the surface of H-AlMCM-41. Characterization of SO4-AlMCM-41 by pyridine adsorption studies and 27Al MAS NMR showed that the presence of Brønsted acidity was correlated with octahedrally coordinated aluminium and solvent environment. Catalytic study demonstrated that the SO4-AlMCM-41 catalyst has a higher activity in the dibenzoylation of biphenyl with benzoyl chloride than sulphuric acid, H-AlMCM-41 and sulphated amorphous silica.
Keywords
Sulphated AlMCM-41; Brønsted acidity; Dibenzoylation; Biphenyl
Publication Date
May, 2006
Citation Information
Eng Ng Poh, Hadi Nur, Mohd Nazlan Mohd Muhid and Halimaton Hamdan. "Sulphated AlMCM-41: Mesoporous solid Brønsted acid catalyst for dibenzoylation of biphenyl"
Catalysis Today
Vol. 114 Iss. 2-3 (2006)
Available at: http://works.bepress.com/hadi_nur/4/