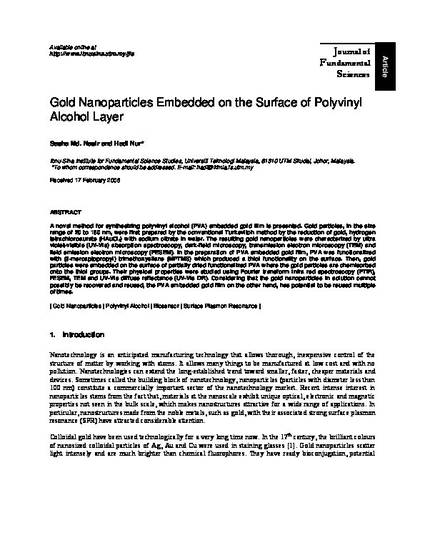 Article
Gold Nanoparticles Embedded on the Surface of Polyvinyl Alcohol Layer
Journal of Fundamental Sciences (2008)
Abstract
A novel method for synthesizing polyvinyl alcohol (PVA) embedded gold film is presented. Gold particles, in the size range of 20 to 180 nm, were first prepared by the conventional Turkevitch method by the reduction of gold, hydrogen tetrachloroaurate (HAuCl4) with sodium citrate in water. The resulting gold nanoparticles were characterized by ultra violet-visible (UV-Vis) absorption spectroscopy, dark-field microscopy, transmission electron microscopy (TEM) and field emission electron microscopy (FESEM). In the preparation of PVA embedded gold film, PVA was functionalized with (3-mercaptopropyl)trimethoxysilane (MPTMS) which produced a thiol functionality on the surface. Then, gold particles were embedded on the surface of partially dried functionalized PVA where the gold particles are chemisorbed onto the thiol groups. Their physical properties were studied using Fourier transform infra red spectroscopy (FTIR), FESEM, TEM and UV-Vis diffuse reflectance (UV-Vis DR). Considering that the gold nanoparticles in solution cannot possibly be recovered and reused, the PVA embedded gold film on the other hand, has potential to be reused multiple of times.
Keywords
Gold Nanoparticles,
Polyvinyl Alcohol,
Biosensor,
Surface Plasmon Resonance
Publication Date
June 26, 2008
Citation Information
Sasha Md. Nasir and Hadi Nur. "Gold Nanoparticles Embedded on the Surface of Polyvinyl Alcohol Layer"
Journal of Fundamental Sciences
Vol. 4 (2008)
Available at: http://works.bepress.com/hadi_nur/38/